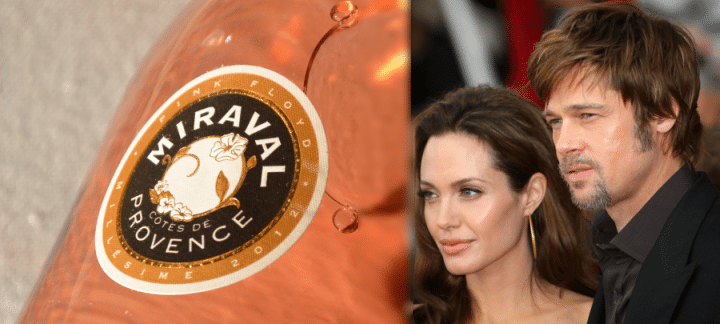 Stars and wine – BRANGELINA

2

min read
Anybody who is somebody in the wine industry dreams of having their wine appreciated by the prestigious magazine  Wine Spectator. Some people have all the luck in the world. Suffice it to say that we are talking here about the most famous Hollywood couple today. No, you are not mistaken: it's the much publicized Brangelina. Brad Pitt and Angelina Jolie have done it again, this time in the wine business. The married couple's 2012 wine, "Jolie-Pitt&Perrin Cotes de Provence Rose Miraval", won over the Wine Spectator, gaining the 84th place of the best wines of the year 2013.
Sign-up to discover how our platform can help you reach 33.000 wine importers from around the world.
It's been tried before, there's no news here. But this time, the two have hit the jackpot. Here is what the respectable magazine's critics had to say about the Brangelina's wine: "Refined and elegant, offering pure and concentrated flavors of dried red berry, tangerine and melon." And that's not all of it: "The focused finish features flint and spice notes, with a hint of cream. Drink now."
Miraval gained 90 points out of 100. For this remarkable score, the couple's rosé was classified as "outstanding: a wine of superior character and style.". Angelina Jolie and Brad Pitt, now married, bought a 1,000-estate in France, in the picturesque region of Provence. Besides the vineyard which produced the spectacular wine, the property features a famous castle, where the two movie stars got married in 2014.
Every little gossip about the super-couple makes headlines in a flash. There is no exception this time. But many people found it hard to believe that a celebrity wine could get such an appreciation from the highly respected Wine Spectator. The magazine's experts were won over by the pink wine's notes and character. Brad Pitt and Angelina Jolie have proved they are professional not only in the movie industry, but, if they they put their mind and money to it, in the winemaking business as well. With no lack of resources of any sorts, the two movie stars have managed to get the best out of an extraordinary "terroir". That is no bagatelle, considering that other celebrities have tried their hands at it before, with more or less success. We have to grant it to them: when your rosé is considered the best in the world, you have done it big. But then again, Brad Pitt and Angelina Jolie don't settle for anything but the best.
Image courtesy of Patrick Gaudin – Some rights reserved
© www.bestwineimporters.com 2014