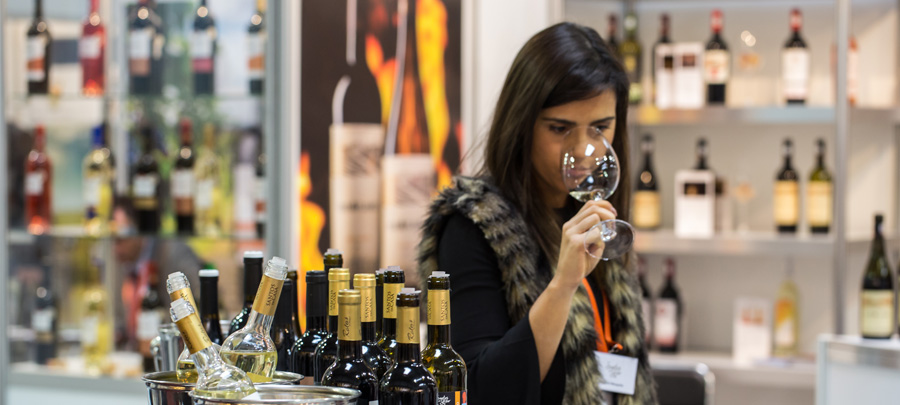 Tips for Successfully Exhibiting at a Wine and Beverage Trade Show

5

min read
Trade shows are essential tools for businesses in the wine and alcoholic beverage industries to generate leads and connect with peers, stay informed about market trends and check on competitors. 
They provide face-to-face interaction and education for companies and consumers. Expos are considered the best way to stay informed about the industry. Most producers also find them the perfect setting to meet new, but especially existing importers, socialize and develop the connection with them.
The top 3 wine industry 2023 trade fairs:
Now that we established their major influence on the world of alcoholic trade, let's move on to the list of the most popular wine, beer and spirits events around the world. There are many websites dedicated to trade shows in the industry, including tradefairdates or eventseye. To help you select the best trade show to attend, you can also browse some wine and spirits online magazines like decanter or winespectator for reviews and other guidelines about trade events.
Sign-up to discover how our platform can help you reach 33.000 wine importers from around the world.
Some of the most popular expos are:
NAME 
BIO
LOCATION & DATE
Vinitaly

4,000+ exhibitors and around 88,000 visitors from over 50 nations. 

Verona, Italy

02 – 05.04.2023

ProWein

~ 62,000 visitors and over 6,500 exhibitors from all over the world 

Dusseldorf, Germany

19 – 21.03.2023

Vinexpo Asia

1,400+ exhibitors and more than 5,000 visitors from around the globe

Singapore,

23 – 25.05.2023
On a side note, there are a lot of events annually around the world, even events hosted online, so when it comes to choosing, the possibilities are vast.
I want to attend. Now what?!
First of all, congrats on investing in your business! Secondly, we're here to give you all the knowledge and tools to help you make the most out of your participation. 
Create some eye-catching materials describing your brand!
The first impression can make it or break it for you. Make sure you prepare your promo materials and strategy early on so you can plan everything without the pressure of time. 
In terms of promo materials, you'd want to create a banner for your stand, brochures of your brand, business cards of attending members, and samples of your products. If you see fit, you can also organize some sort of giveaway or discount coupons to create some buzz around your brand. Companies with bigger budgets can also hire hostesses to attract visitors at the stand or use various media outlets to make their presence at the expo known.
As most trade shows provide a website for the event, don't forget to take advantage of entering your details in the exhibitors' list. This will give you more credibility and visibility toward your target audience.
Prepare your participation announcement for your clients and business partners!
Next, you'll want to prepare your attending announcement to your peers. Like any business on the web today, make full use of your client base and send a participation announcement and a series of reminders about it to your email subscribers. Take full advantage of your social media channels and create posts about the fact that you will attend an expo, but also stories from the event – pictures with your partners, impressions, etc.
So we're on to email marketing! But don't worry, we've made it really easy for you and you won't have to spend time worrying about it! As of last year, we've created 20+ original email templates for expo invitations and wine presentations, dedicated to producers of wine, beer, and spirits. Access them now for FREE in our Marketing Academy section which is available for all the users who have a subscription to one of the BestWineImporters Databases.
The BestWineImporters platform is also used by top producers from the wine, beer, and spirits industries to locate new importers and distributors, identify attractive prospects, and invite them to discover their brands.
* If you'll like some extra help, reach out to us and we can also provide personalized email templates that include your branding, message, and products.
We also included 3 FREE Expo Email Examples here:
1.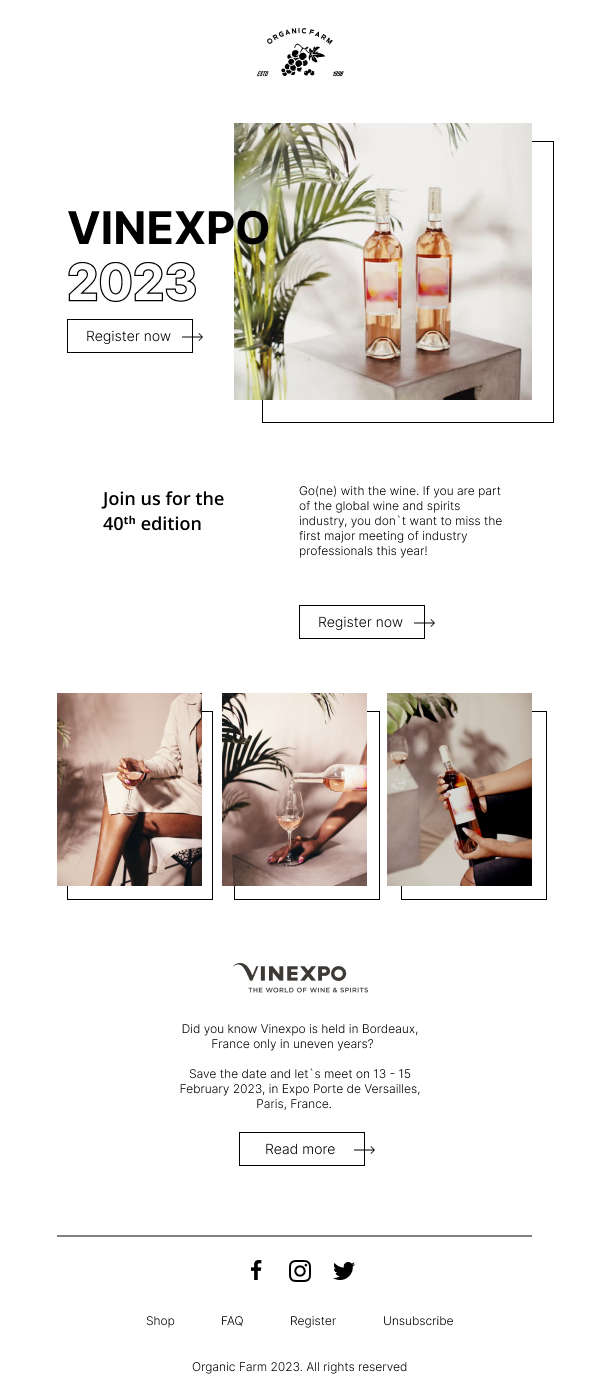 2.

3. 

Use the right tools to schedule the meetings!
Another thing you can do which will also show your professionalism is to take advantage of all the online tools out there that can help you ease up your meetings with your peers. 
For example, appointment scheduling apps like Calendly or Zoho. You can easily create an account and set up your calendar schedule/availability to meet with your people, avoiding misunderstandings and making sure everybody gets reminders.
That way you'll be in full control over your time and you'll be able to prepare beforehand.
Your mission does not stop after the trade show is over!
Show your manners and make yourself memorable. After you've successfully attended the event, don't make yourself forgotten but follow up with the people you've spoken to. 
A good idea is to send a "thank you for visiting" email about 2-3 days after the show has ended. Remind the people you've met about your interaction and promises you've made either individually or in a bulk email showing gratitude for meeting up and looking forward to meeting again message.
You can also craft a blog post or a video sharing your thoughts and the overall experience you had at the event, as a great way to create visibility for your brand in the long term but also keep in touch with the people who couldn't attend.