Features that Help You Grow Your Business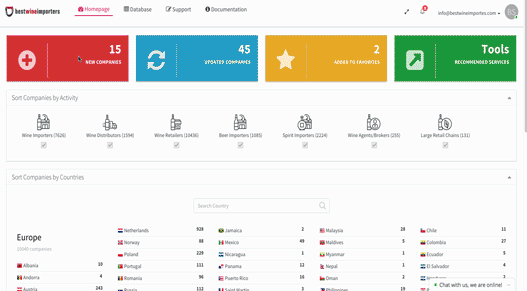 Use filters to reach the right buyers
The online database features advanced filtering options which allow you to target the companies based on their activity, increasing the chance of finding the right match. You can select between wine, beer and spirits importers, distributors or retailers, depending on the product you purchased.
View the origin of the imports
BestWineImporters is the only database that offers the possibility to filter the companies who import products that originate from a selected country (ex. view companies that import wine produced in Italy). Other filtering options include the country in which the importers/distributors are located or the date when the entries were added to our database.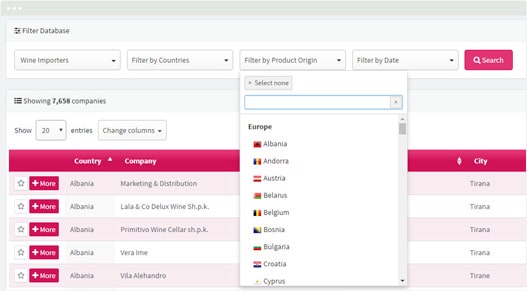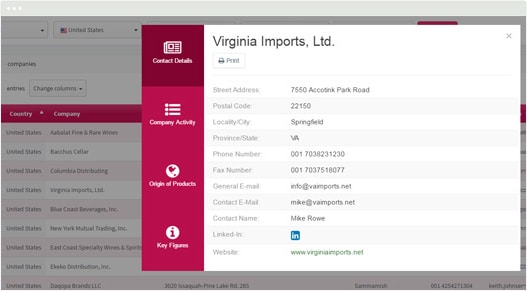 Contact the persons in charge
All the companies listed in the database have a valid, verified email address. But for some companies we also offer the email addresses of the contact persons. Thus, you know exactly who you are writing to and who is replying to your emails. It helps you connect with that company's representatives on a deeper, more intimate level.
Export the contact details
For each company included in the database we offer complete and up-to-date contact information including: company name, phone number, fax, email address, website address, headquarters (country, city, street, postal code). The emails can easily be exported and integrated in other marketing software solutions and the database can be accessed by any computer with an internet connection.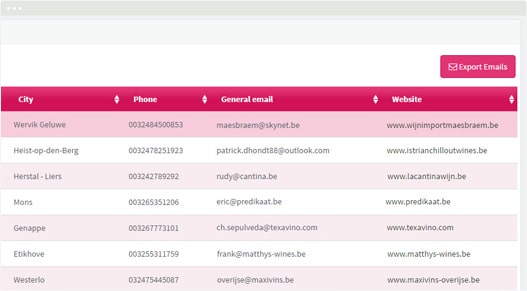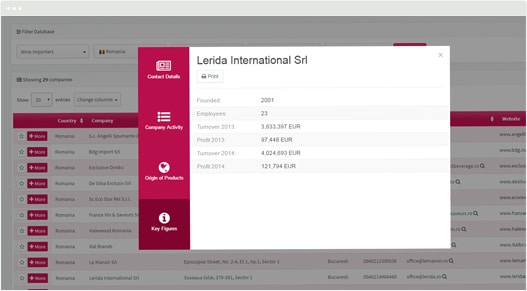 Visualize the top companies
Often you will be interested in the most important importers from a specific country. To help you create a top, our databases give you access to the following information: sales figure, profit, financial details, year established, and so on. You get all these key figures in one place and don't have to waste time reaching out to other services. Financial data is available only for some countries.
Create a list of favorites and add personal notes
From the database dashboard you can easily consult the list of importers and distributors that you have marked as favorites. You can save any company in a list of favorite contacts and add notes that record your interaction with them (ex. sent offers, received feedback, arranged a meeting at an expo etc.