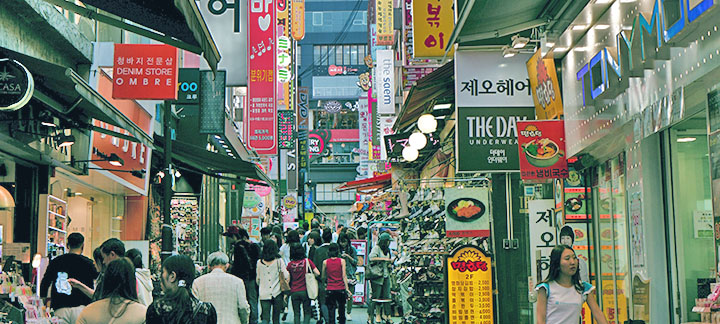 South Korea Wine Imports: Top players, Strategies and Consumer Trends

5

min read
South Korea is one of the world's strongest economies and an extremely attractive Asian market for wine producers, who are betting on the ever increasing popularity of this beverage among the country's middle class.
Sign-up to discover how our platform can help you reach 33.000 wine importers from around the world.
Trends to take into consideration
In the last years wine managed to establish itself as a top preference in the alcoholic beverage sector, a historic result as wine imports were bigger than spirits imports for the first time ever in 2015.
However, as a sign of the constantly evolving trends in S Korea, the situation changed again, when imports of beer in the first half 2017 were slightly larger than those of wine. The same factors that fuelled the growth of wine (a preference of lighter drinks and a larger number of female consumers) has also helped beer attain the impressive 50% increase in imports this year. This does not mean that wine is having a bad year – wine imports are also growing by close to 5%, a growth that managed to remain steady in the last period.
Koreans perceive wine as a healthier drink than spirits and they also appreciate the more sophisticated allure of wine, especially when paired with various European dishes. Wine is also becoming a very popular drink at weddings, replacing more traditional beverages such as soju.
Another positive aspect is that Korea is  home to an ever increasing number of sommeliers and wine publications, which contribute to the education and diversification of tastes in this field.
On the downside, a factor that stays in the way of an even larger growth for wine is its very high price, despite the elimination of many of the taxes thanks to the KORUS FTA and the Korea-EU FTA. According to a recent survey that analysed prices among major cities around the globe, Seoul had some of the highest prices for imported wine and beer (sometimes up to 2x compared to other large cities).
On-trade vs. off-trade
Korea is atypical compared to other Asian markets, as most of the sales of imported wine can be attributed to off-trade, especially the retail sector, which is valued at around 900 million USD for this category. The price is probably an important factor, as the high-end bars, restaurants and hotels are still restrictive to many Koreans. They prefer to shop wine from the very popular supermarkets that dominate sales in Seoul (Lotte, Costco, E-mart, Homeplus). The same shoppers are expected to drive significant growth in the low to medium priced wine category in the next years.
Speaking of Seoul, even if the capital is the heart of the country's economy and the focus of the majority of new companies trying to enter the market, some analysts also recommend trying to navigate some of Korea's other important cities, like Busan. Competition can be lower and the importers less saturated.
Analysing the origin of imports, the Korean wine market has long been dominated by countries like France or Chile but the environment is quickly changing. US wine producers are finding increasing success, thanks in part to the excellent US – Korea relations and the positive perception of US brands by the population. Spain and Australia are also more present, increasing the diversity of wines available. Many of the other well known wine regions are represented in Korea, thanks in part to the well-traveled Koreans who have brought home the passion for a wide range of wines.
Tips for entering the market

Despite all the positive aspects, building a wine brand in Korean is not easy. The companies that are having success have invested a lot, both financially and timewise in their market presence. Most of them have a team in the country or at least visit regularly in order to develop the relationships with both the importers / distributors and the consumers. For the majority of the Korean importers, face to face meetings or business dinners are a must at least at a certain stage of the talks. Because Korea has such a unique culture, understanding it is vital in order to be able to predict consumer preferences and needs.
Picking the right Korean partner is an extremely important and often complicated process as the ecosystem is constantly changing and importers appear and disappear each year. Prior research of the importer's past and connections is more than recommended. You can try calling some of the producers from the importer's portfolio and try to find out more information about their relationship.
Another problem is that many of the serious importers have become quite conservative and take few risks when accepting new wines. They prefer wines that come with recommendations from influential sources, like the top wine magazines.
Once a solid partner is found, he should be able to help you implement marketing strategies, as well as offer market information and help with customs clearance and wine promotion.
Finding wine importers can be done via various strategies. An initial step can be cold contacting via a reliable list in order to get an appointment and later set-up a meeting. Visiting the country's major expos, like Seoul Food and Hotel or getting in touch with a government or trade agency is also recommended.
Some of South Korea's top wine importers and retailers: Vinideus Co Ltd, Wine 2U Korea, Boa Trading, Handok Wine Co, Indulge or Winenara.
For an extended list that includes details about the wine importers and distributors from South Korea you can purchase the up-to-date BestWineImporters database.
Author: Sergiu Briceag