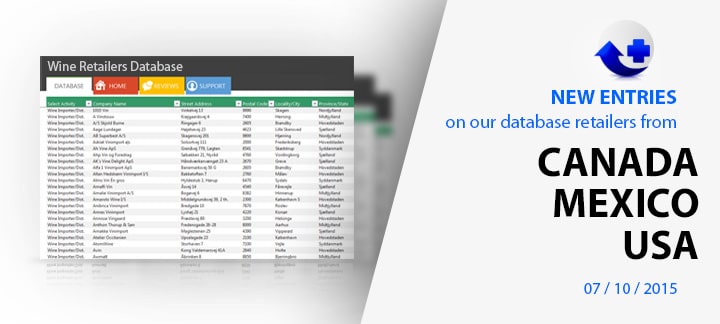 New Entries added on our Wine Retailers Database

1

min read
Today, 07.10.2015 "BestWineImporters" team is proud to announce that we launched 256 new wine retailers from North America such as: Antigua, Barbados, Canada, Costa Rica, Mexico and 96 wine retailers from USA.
Sign-up to discover how our platform can help you reach 33.000 wine importers from around the world.
You must know that our market research teams works hard in order to achieve this goal for us and for our existing and future partners. For all of the companies newly added to our database, we now offer complete contact information and other relevant data, including the contact information of the persons in charge with the wine acquisitions for some of the companies added via this update.
Some new entries are exemplified below:
Canada: Banville & Jones Wine Co. from Winnipeg, Cristall Wine Merchants Ltd from Bedford, WineryToHome Inc. from Toronto, David Herman & Son Ltd from Vancouver, Whatcom Wine & Spirits Inc from Abbotsford;
Mexico: La Cubiella SA from Hermosillo, Bacus from México, Terra & Mondo from Tultitlán, Vinoteca Mexico from San Lucas, Club del Gourmet from México, Uva & Corcho from Zapopan, Wine Concept from México;
Unites States: Miles 4101 Wines & Liquors LLC from Bronx, Village Vineyards Inc from Plymouth, WC Lyndhurst LLC from Lyndhurst, Seattle Wine Co. from Bellevue, Brook Stony Wines Inc from Stony Brook.
The following link leads you to the updated version of the database, in Excel format.