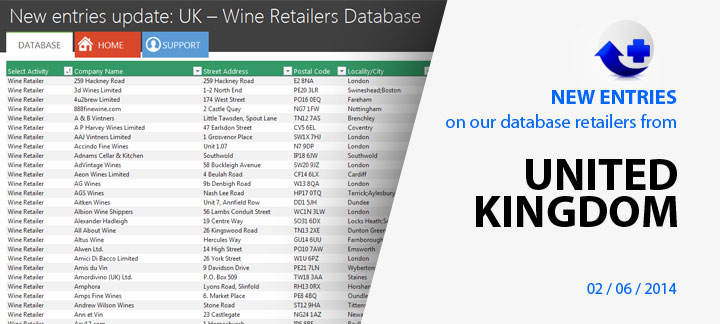 New entries update: United Kingdom – Wine Retailers Database

1

min read
The United Kingdom – Wine Retailers Database has received a comprehensive update. 205 new wine stores were added and below, you will find some examples of the new entries.
Sign-up to discover how our platform can help you reach 33.000 wine importers from around the world.
The Fine Wine Company from Edinburgh, Machiavelli Ltd from London, Claret-e Ltd from London, Island Wine Co from Ventnor, Halifax Wine Company from Halifax, Thorold Wines Ltd from London, Rollings Wine Company from Harpenden, OW Loeb&Co from London, Leon Stolarski Fine Wines Ltd from Nottingham, Topsham Wines Ltd from Topsham, Bacchus Wines Ltd from Olney, Maidenhead Wine Company Ltd from Maidenhead, Organico Wines Ltd from Ambleside, The Bianca Trading Co from Chester
Every new wine store has been added with complete contact information. Furthermore, the United Kingdom – Wine Retailers Database currently has 1,074 entries. The database in it's updated form can be downloaded in Excel format via the following link.