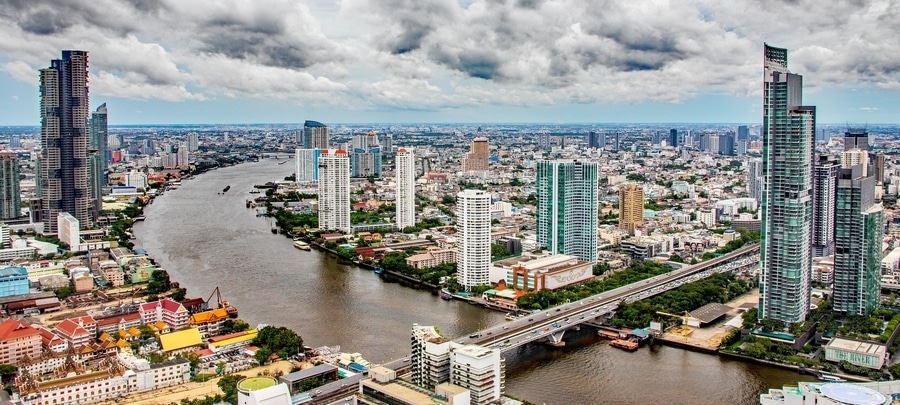 Wine Importers and Wine Import Trends in Thailand 2021

4

min read
Already familiar with socially drinking with friends and family on a regular basis, the expanding nightlife and fine-dining sector in Bangkok, the limited local competition, the growing tourism and the increasingly affluent residents are steadily creating dynamism on Thailand`s wine drinking scene. Despite being shadowed by beer and spirits who enjoy a bigger market share, for its dynamic evolution of wine appreciation, the tropical destination of Thailand remains the biggest wine consumer nation from the ASEAN member states, marking Thailand`s new thirst for worldwide imported wines as a highly attractive emerging wine market to conquer.
Sign-up to discover how our platform can help you reach 33.000 wine importers from around the world.
The Thai wine drinking scene
In recent years, the wine portfolio and accessibility have vastly improved, and in turn, consumers` curiosity and knowledge about wines did too. Wine has become a select gift and an increasingly popular drink choice for the residents, especially since where there is alcohol, there is food, be it local cuisine or the growing range of western food outlets.
Alcohol drinkers of younger generations are increasingly more travelled and interested to explore new dishes and beverages, others than their parents` choices. The best wines to be paired with local foods are fruity wines, white wines, and sparkling wines, best to balance out the spiciness of Thai food.
Moreover, the wine scene is benefiting from the health consciousness trend, making Thai consumers shift towards healthier drink choices like wine, which in turn are also is perceived as a sign of higher social recognition and modern lifestyle, who is important especially for residents in the metropolises and urban areas like Bangkok, Nonthaburi or Krung Thep.
The best prospects and wine supplying countries
In Thailand, like in many other countries, Old World wines have a solid history, but in recent years there has been an increasing interest in New World wine varieties, especially due to affordability, diversity and heightened accessibility.
In restaurants, hotels, supermarket shelves and specialty stores, there is a portfolio of wines imported from France, Italy, the USA, as well as  Australia, New Zealand and Chile who benefit from Free Trade Agreements with Thailand.
For Thai consumers, there is wine available for every pocket. Over the years, wine has gained popularity due to being affordable, thus available for the wider population. As a result, residents have become more aware of wine knowledge and became eager to experiment with new tastes. This category of entry-level consumers is fond of Spanish, South African, Australian, or Argentinian wines, commonly perceived as value for money wines.
At the same time, despite price sensitivity among several wine consumers, the retail sales of wine have shown significant growth for the mid to premium wine segment, mainly due to the tourism contribution and fine-dining culture of urban areas like Bangkok.
The sale and promotion of wine on the Thai market
In Thailand, the competition between the HRI sector and the retail market seems to be balanced in terms of wine sales, with both sales channels under turmoil in recent years. For retailers, the sale and promotion of alcoholic beverages have been limited to a timeframe of 11:00 – 14:00 & 17:00 – midnight since 2015, while the recent Covid-19 pandemic also brought several setbacks like a decline in tourism, consumer purchasing power, and lockdown measures.
Despite these hindering challenges, Thailand remains a resilient market, eager to further develop its potential. In the past decades, the country has portrayed a dynamic increase in its wine accessibility due to the development of the retail market, making Thai wine consumers no longer limited to fine-dining restaurants, but rather enjoy a diversified mix of sales channels and wines.
When it comes to buying wines, hypermarkets supply themselves from Thai wine importers, thus being the place to go for consumers who look for affordable wines to experiment with while supermarkets and specialty stores focus on high-income buyers, therefore becoming direct wine importers, usually importing a wide range of middle and premium wine varieties.
Finding a reliable Thai wine importer as a local partner is of high importance when entering the Thai wine market due to the various cultural and legal restrictions regarding the sale, advertisement, and consumption of alcohol. 
Wine Importers from Thailand:
Napaphan 2010 Co.,Ltd.
Address: 252/209, 2nd Floor Muang Thai Phatra 2 Complex Huaywang, Dusit, Bangkok, Thailand
Phone: +66 2 693 3897
Website: napaphan.com
V & K Inter Group Co., Ltd
Address: 102.1, 5-7th Fl., Seree 4 Road, Suanluang, Saphan Sung, Bangkok, Thailand
Phone: +40 66272013249
Website: vandk.co.th
Vanichwathana Co., Ltd.
Address: 37-43 Anuwong Road, Chakkrawat, Khet Samphanthawong, Krung Thep Maha Nakhon, Thailand
Phone: +66 2 221 5354
Website: vanichwathana.com
Producers interested in Thailand`s wine market can find a database with top wine importers, distributors and retailers here.