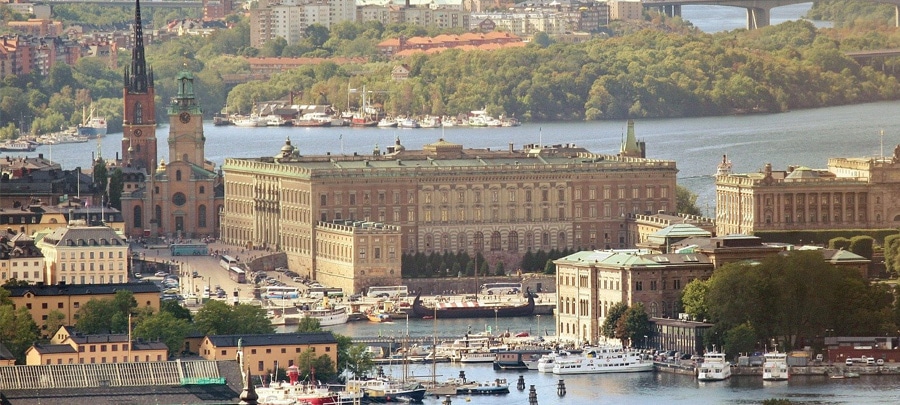 Sweden wine importers and wine import trends 2020

4

min read
Sweden is more than IKEA, ABBA, Volvo, H&M, Vikings or Aurora Borealis. The land of the Midnight Sun remains a high interest for foreign investors thanks to its high purchasing power, advantageous tax regime, and favourable economical status. This home country of 10.3 million people also has a rather unique two-sided opinion towards alcohol, but exporters to the Nordic wine market who understand the trends are granted with many opportunities.
Sign-up to discover how our platform can help you reach 33.000 wine importers from around the world.
Why is Sweden an attractive wine export market?
Unbalanced production-consumption
Scandinavian countries are highly attractive export markets in the present due to a plethora of reasons. On one hand, wine is rather difficult to produce considering the country's low temperatures, resulting in small wine quantities. On the other hand, wine consumption has been on the rise in Sweden, placing it on top as the highest alcohol consuming country in Scandinavia. As a result, to satisfy the increasing demand, wine consumption means increasing wine imports. In 2019, sales of imported wine in Sweden reached 7.5 billion Swedish kronor while the podium for most sales in alcoholic drinks in Sweden of 2020 was occupied by beer, followed by wine and spirits.
Open-minded, unconventional drinkers
Besides the regular sensitive customers who look for quality-price balance, the Swedish market seems to be turning to global trends, with consumers who are increasingly open-minded, more interested when it comes to wine, and keen on alternative products and packages. Swedes are now leaving quantity in favour of quality, and are more curious about new tastes, production methods and unique stories.
Trends & opportunities
Sustainable and ethical wines
Swedes, especially younger consumers are exceptionally aware and concerned about the environment, creating a growing demand for sustainable and ethical wines. Consumers care about the origin of the imported wine, as well as production methods, distribution and certifications. Sales of highly popular organic wine amounted to 50 million litres in 2019 and continue to show growth.
Authenticity and premiumisation
The Swedish get increasingly higher incomes and are eager to spend on pricier, premium wines, especially if they come with a unique story or branding, on both on and off-trade channels. Moreover, sales of higher quality alcohol, like fine champagnes, spirits, and sparkling wines have been driven by the younger, urban consumers, who have a mature wine culture and are increasingly interested to spend on various occasions.
Low-alcohol content
Another way of capturing the Swedish market is selling wine with lower alcohol content. Although criticised by many, the popularity of low and alcohol-free beverages is still growing in Sweden, mostly due to young, urban consumers, the top consumers for this segment, who can explore a wide variety of beverages available on the market, at different occasions, as well as fulfil their desire to separate themselves from the heavier-drinking older generations.
Packaging
Compared to other markets, the Swedish are all eyes on alternative packaging for wines. Single serving formats like bag-in-box or canned wine are encouraged due to convenience for on the go consumption, as well as lower alcohol intake due to smaller portions. Moreover, to no surprise, eco-friendly, recyclable packaging is most desired, especially among Generation Y and Z who are significantly interested in sustainability.
Challenge: Welcome to Systembolaget!
Like Alko in Finland and Vinmonopolet in Norway, Sweden allows alcoholic drinks higher than 3.5% to be sold only through Systembolaget, a government-owned chain of liquor stores. Regulations in this matter are focused on promoting responsible alcohol consumption and health awareness, to minimize the harmful effects of alcohol in society.
To be successful in the Swedish wine market you must understand its unique drinking culture and craft a strategy accordingly. Alcohol is a complex topic in Sweden and drinking patterns are somewhat unique. Besides age restrictions and Systembolaget regulations, Swedes are more reserved about alcohol intake during the week but compensate during the weekend, as they associate partying and socializing with drinking.
Competition & sales channels
Alcoholic beverages can reach Sweden through three segments:
Importers selling to the Systembolaget: monopoly retailer dictates the market; to sell, you need to follow some strict requirements.

Importers selling directly to restaurants: this channel is not regulated by the monopoly but has only a small share of the wine market, thus it is very competitive in niche segments, but most interesting for small suppliers.

Selling directly to consumers, through internet wine shops: it`s an interesting opportunity with growth potential as online trade is forecasted to expand its market share in the future.
The Swedish wine market is highly fragmented, from traditional wine supplying countries like Italy, France, Spain, Germany, to New World wines from Chile, Australia, Argentina etc. There are available a wide range of imported wines, usually in small quantities, except for the dominating key brands who are supplied in high quantities. Be it red, white, organic, fruitier, lighter varieties, etc, Swedes are not loyal to a particular origin.
Wine Importers from Sweden:
Carovin Ab
Address: Karlavägen 108, Stockholm
Phone: +46 8 505 515 00
Website:  carovin.se
Karins Vinimport
Address: Mässvik 44, Säffle
Phone: +46 76 102 27 01
Website:  karins-vinimport.com
Portucastas Ab
Address: Västerro 208, Sundsvall
Phone: +46 70 563 16 65
Website: portucastas.se
Producers interested in the Swedish market can find a database with top wine importers, distributors and retailers from Sweden here.