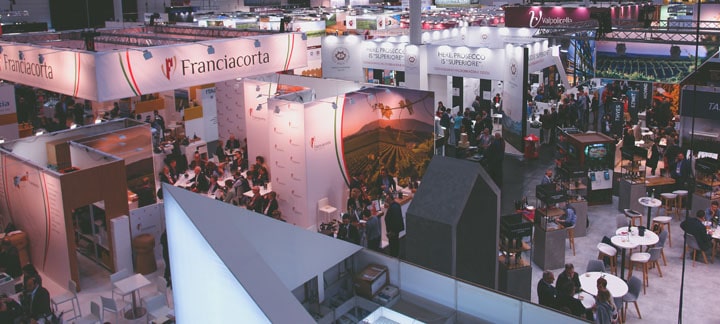 The perks of exhibiting at wine, beer and spirits trade shows + tips for a successful participation

4

min read
Despite their vast and growing success, the value of international trade expos is yet still blurred today by companies who see exhibiting at trade shows a costly hassle, favourable only for medium-sized to big market stakeholders. In reality, when done right, trade shows are top of the funnel heaven and have been a vital sales and marketing tool for centuries, creating an organic setting for B2B companies to come together under the same umbrella, to connect with like-minded industry peers, meet leads, audit market trends, challenges, and competitors, get feedback, educate, and all in all have a great time.
Sign-up to discover how our platform can help you reach 33.000 wine importers from around the world.
Here`s a glimpse of our experience at ProWein 2017, the world's leading trade fair for wines and spirits, which was a real success, with results that have exceeded even the expectation of its organizers.
How to make the best of it?
Due to their importance and complexity, preparing for a trade show can deal with many challenges, among whom sometimes little elements like undertrained staff, logistical difficulties, unrealistic goals, choosing the wrong show or improper marketing efforts can be game-changing. 
In light of the issue, earlier this year, we`ve prepared this article about trends and challenges regarding industry trade shows in 2021.
Pre-show
Although the digital channel has taken a big share of companies` business calendars in the recent past, (especially after the Covid pandemic), there`s nothing like genuine, face to face interaction, to build professional expertise and grow clientele, especially since trade shows ignite the appetite of past participants and the curiosity of new attendees due to their rich legacy.
As you`ll be meeting wine, beer and spirits importers, distributors and retailers, sommeliers, fellow exporters, the media as well as potential leads, for a successful participation, the work starts long before the show opens, as organisation is key. With this in mind, leaving a good impression from start to finish is of high importance and depending on the scale of the show, preparation starts earlier or later.
Considering you`ve established your goals and have audited your resources, costs and other logistics when choosing the trade show that best fits your business intentions, it is also paramount to know your offer and your strategy. Think about how you want to design your stand, what marketing materials (brochures, testimonials, leaflets, business cards etc) to use and what promotional strategy would create buzz around your business, be it samples, workshops, discounts, giveaways or other eye-catching gimmicks.
After the agenda for the event is fully planned, and the place is confirmed, it is time to let people know about your participation and invite them to visit your booth by keeping them hyped to participate through a wow factor. A digital platform like BestWineImporters can give you a trustworthy tool to create a cost-effective email marketing campaign, to inform the top wine, beer and spirits importers and distributors that you will be attending a trade show and invite interested buyers to your stand. 
According to your strategy, use relevant additional online space like social media channels or your blog section to showcase your participation and create hype. As most trade shows provide a website for the event, take advantage of your entry display in the exhibitors' list, by creating a catchy bio about your company.
During the show
Participating at a trade show brings you the perk of a unique, additional sales channel, perfect for smaller brands who are looking for exposure outside of the worldwide retails channels dominated by huge stakeholders.
As trade shows bring relevant companies together under one roof, remember to shake hands with industry peers, and take advantage of the context in which you can network and meet new partners, clients, suppliers and distributors.
Trade shows are a valuable source of industry information, giving you the opportunity to soak up a lot of insight and discover market trends, technologies, marketing strategies, challenges or opportunities, while also keeping an eye on the competition.
Ask, answer, and listen to your customers` real-time feedback. The face to face genuine human interaction made possible by wine, beer and spirits trade shows offer a steep learning curve for your business success.
Because trade shows are about people interaction and adding value, in most cases the event agenda encompasses speaker panels, workshops or other interactive activities for visitors, which in turn give exhibitors an opportunity to get involved and increase brand awareness by sharing industry expertise.
Post-show
Your mission does not end after the show is over. It is now time to sit back and debrief your learnings, check on your clients and your team feedback, check what worked well and what did not, and measure your goals` progress so you`ll know what to do next.
When you`ve learned your lessons but not long after your attendance, make sure you follow up with your leads and business partners with a "thank you for visiting" email but also make the best of the experience by sharing your thoughts about the event, for people who couldn't attend.
The foreseeable outlook
Exhibiting at trade show remains serious business with a real payoff, especially for participants who do their homework beforehand. Despite their complexity, the need to embrace new changes and technologies, and sometimes costly manner, 75% of industry participants predict a positive outlook for the future of trade shows due to their uniqueness in fostering communication among tradespeople and their clientele.