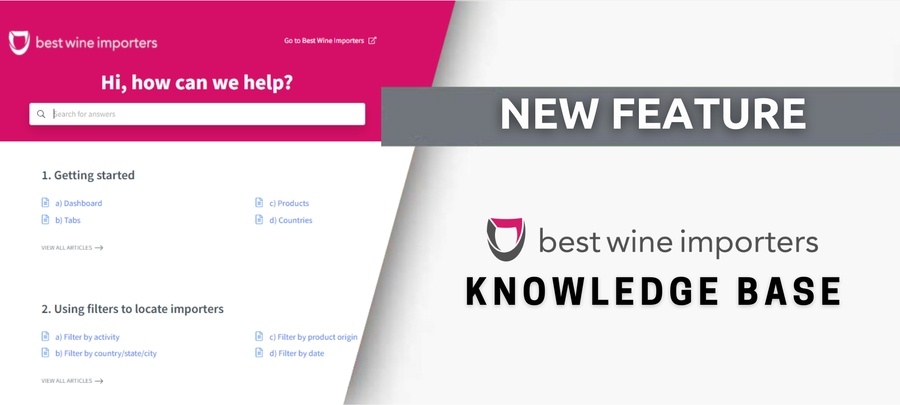 New exclusive feature for our customers: The BestWineImporters Knowledge Base

1

min read
Because customer satisfaction is paramount to us, this year we have launched the BestWineImporters Knowledge Base, a self-help centre of information on how to use the BestWineImporters platform to its full potential.
Sign-up to discover how our platform can help you reach 33.000 wine importers from around the world.
The BestWineImporters Knowledge Base is an exclusive feature dedicated only to our customers, who can easily learn about how to get started using all the perks of the BestWineImporters platform at their full capacity, perform troubleshooting, or manage their accounts.
If you are one of our subscribers, you can use the BestWineImporters Knowledge Base to:
Save time by having all the information you need in the same place;
Be productive by navigating directly to what you are looking for;
Read at your own pace, without having to ask for help;
Have the information 24/7 at your disposal;
Upvote/downvote articles so we know what to improve in the future.
We know time is money, so we know the importance of immediate assistance for our customers.  We are always working on constantly updating our products and services so we hope you are also looking forward to what comes next. We are looking forward to hearing more feedback from our customers and we invite new subscribers to discover the BestWineImporters platform.