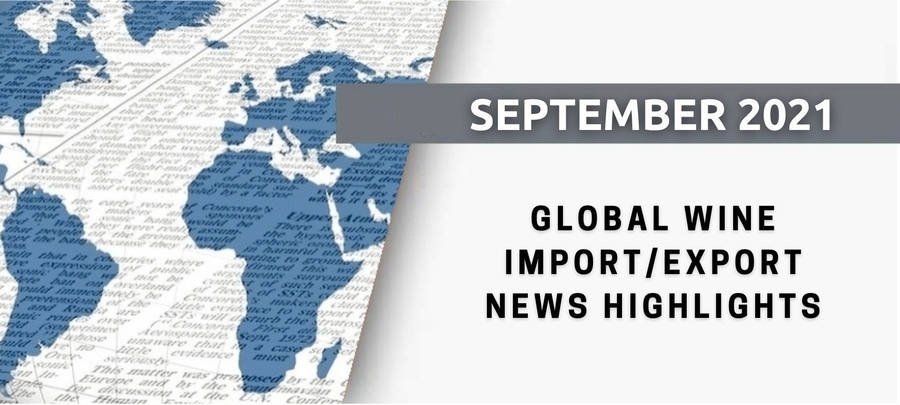 Global Wine Import/Export News Highlights – September 2021

1

min read
New international sustainability organisation 
A group of about 50 companies from around the globe have come together to create a new non-profit organization by the name of Sustainable Wine Roundtable (SWR), intending to accelerate action on sustainability challenges and create worldwide standards for sustainable business in the wine sector. Based in Uk, the coalition of small producers, distributors, retailers and environmental organisations is ready to bring guidance and understanding on eco-friendly practices for wineries, retailers and consumers and further invites industry peers for collaboration.
Sign-up to discover how our platform can help you reach 33.000 wine importers from around the world.
Biden to shake up alcohol distribution in the US
In July 2021, US President, Joe Biden, issued an official order regarding the revision of market entry barriers and threats to competition on various industries, namely tech, pharmaceutical, or telecoms as well as the beer, wine and spirits markets. The new executive order aimed to improve market entry for smaller and new businesses may also shake up an 88-year-old three-tier system, of the highly fragmented and legislation-divided US, regarding the production, distribution and retail of the alcohol sector.
Alcohol consumption at a new low in Ireland
According to an industry body, consumption of alcohol in Ireland hit its lowest level in the last three decades. Compared to the same period last year, alcohol consumption has fallen by 11 in the first half of 2021, with consumption down across all categories, beer 15%, wine 11% and spirits 0.3%. Reasons behind the decline in sales and consumption seem to be responsible for alcohol consumption, the closure of the hospitality sector, the Covid-19 crisis and the overall trend of declining alcohol consumption in Ireland for the past three decades.