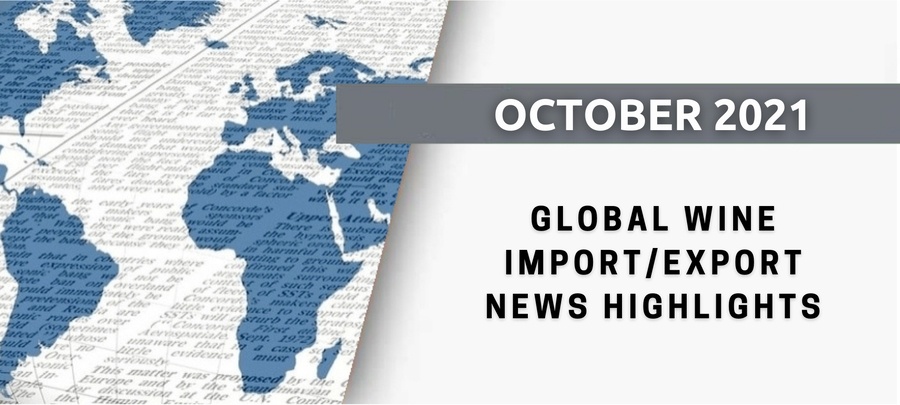 Global Wine Import/Export News Highlights – October 2021

1

min read
Disruptions in the supply chain lead to alcohol shortage in the US
With the holiday season approaching, the demand for alcohol is fastly increasing while industry experts warn about nationwide supply chain issues, disruptions related to the global pandemic who are affecting the global supply chain in many sectors as well. Part of the shortage problem comes from the shortage of transportation, space on container ships and warehouse capacity as well as insufficient workforce for alcohol distribution. On the other hand, local businesses are faced with a shortage of manufacturing materials such as barrels, glass, or aluminium for caps. Similarly, with the high costs of imports as well as with the disrupted market, alcohol becomes more expensive and hard to get. Be it champagne, whisky, tequila or wine, many stores limit the number of products a customer can buy. The concerns are even more real as the festive season is one of the periods where alcohol sales skyrocket nationwide and globally.
Sign-up to discover how our platform can help you reach 33.000 wine importers from around the world.
Discussions on a new craft beer taxation
British chancellor Rishi Sunak revealed complex changes in alcohol duty, namely an increase in line with alcohol content from 2023, for a "healthier" taxation system. If trade bodies and alcohol companies agree with the proposal, smaller businesses warned that the new regulations would only favour large companies as well as affect innovation and increase cost production. Craft brewers say the new policy would make the production economically unviable if a higher rate of tax on beers above 8.5% (ABV) goes through while consumers will also be attracted to cheaper brands with lower levels of alcohol as compared to craft alternatives.