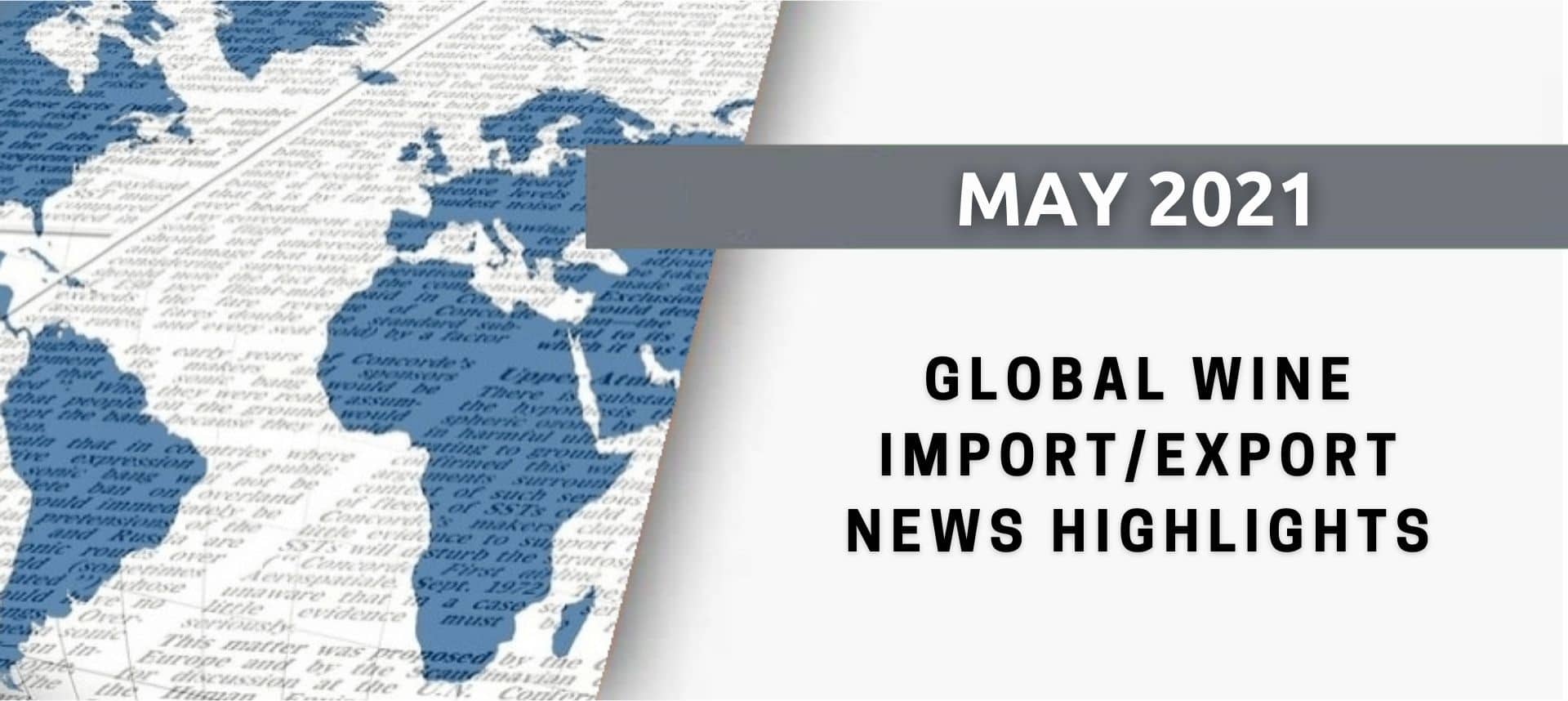 Global Wine Import/Export News Highlights – May 2021

2

min read
UK aims new tariffs on US wine imports
In retaliation for the 25% steel and 10% aluminium levies imposed by the Trump administration in 2018, the EU is imposing an additional 25% import duties on several American products. As part of the larger ongoing trade dispute between the EU and the US, the UK government is considering an additional import duty tax on several American products, including wine, chocolate or lobster. The UK government asserted a prefered bilateral solution, where the currently proposed import duties will not take effect if the Trump imposed taxes are dismissed.
Sign-up to discover how our platform can help you reach 33.000 wine importers from around the world.
Physical wine trade events slowly return
With a previous online edition and despite this year`s Covid-19 instability, Vinexpo Shanghai is planned to come back as the usual physical event, taking place from 20 to 22 October 2021, at the Shanghai World Expo Exhibition & Convention Center (SWEECC).
If China is already an established name on the wine market, the giant in exhibitions for wine and spirits worldwide also aims to launch its first trade event in India, with New Delhi as the host from 9 to 11 December 2021, to pioneer new markets.
Additionally, on another side of the globe, Ro-wine, the international wine festival of Romania announced its return date. Hosted on 18-19 September 2021 in Bucharest, the festival is dedicated to wine lovers, wine experts, tradespeople and HoReCa operators, avid for premium wines from Romania as well as other countries of the world.
Slowly but steadily, wine events around the world are coming back to their normal as Corona restrictions and effects ease up.
South Africa wine market gets its silver lining
Despite many alcohol sales prohibitions, export bans, and hardships during the Covid-19 lockdown, this season, the South African wine market has reached its silver lining, celebrating a bumper grape harvest. Favourable weather conditions like cool temperatures and plenty of rainfall have to lead to a slow ripening rate, and a late but exceptional harvest of around 1,500,000 tonnes, almost 10% larger than last year. Besides a better wine quality, the two-week late harvest also helps producers leverage wine oversupply issues existing from previous alcohol restrictions last year.