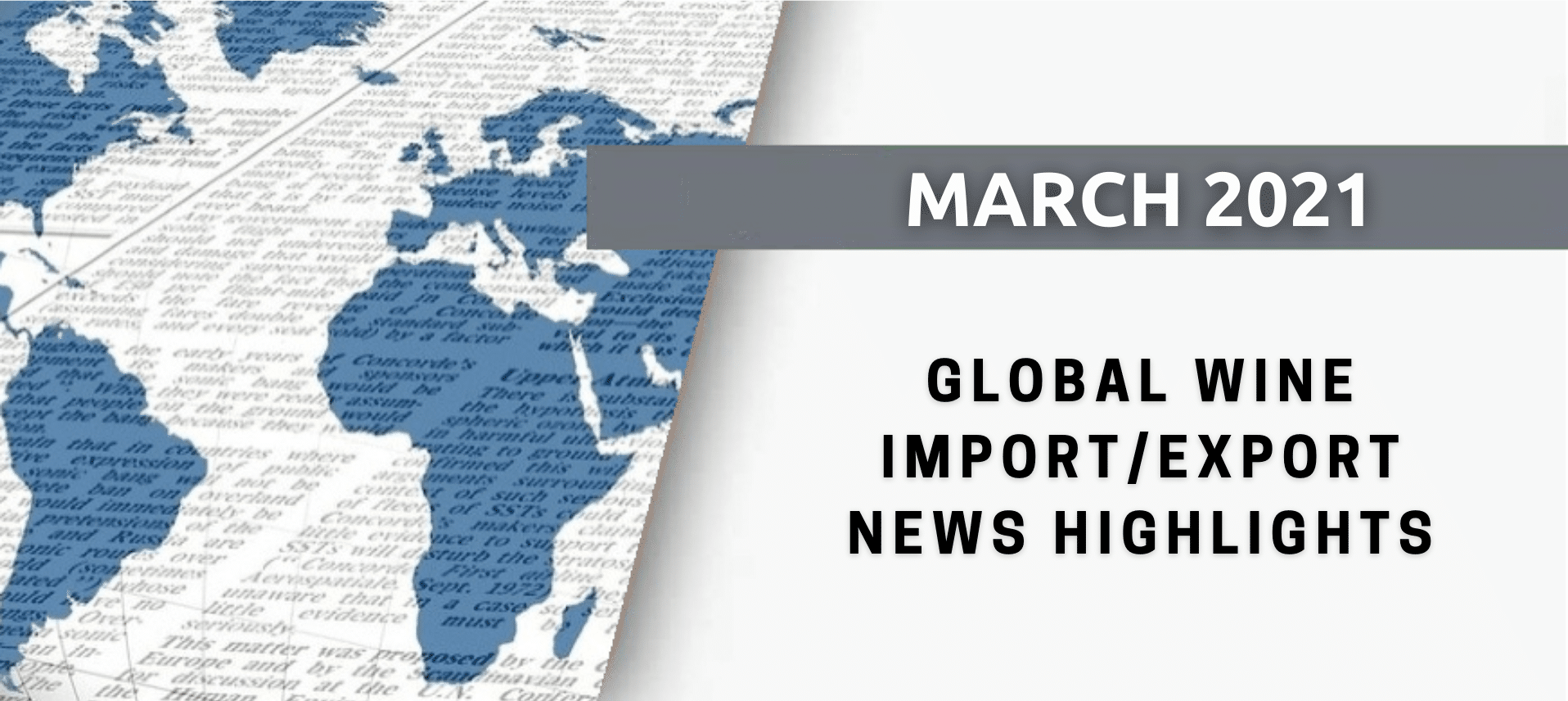 Global Wine Import/Export News Highlights – March 2021

2

min read
US – Europe Aerospace trade temporary truce
Just last month we highlighted the distress brought by the long-running trade conflict over government subsidies to Airbus and rival Boeing. The 25% tariffs on French, English, Spanish and German still wines of 14% abv, extended in January to still wines above 14% abv, have been extremely harmful to wine importers, distributors, retailers and the hospitality sector.
Sign-up to discover how our platform can help you reach 33.000 wine importers from around the world.
Fortunately, recent updates on this topic confirm a bilateral temporary relief for both sides, as the US and EU have negotiated a suspension on tariffs applied to wine and food, among others, fostering hope for cooperation in the future.
Vinitaly 2021 cancelled
Sad but not that unexpected news was recently released regarding Vinitaly, the biggest wine and spirits exhibition in the world. Held annually, over 4 days in April in Verona, Italy, the 54th edition of the international fair was for the second time cancelled due to Covid-19 extended lockdowns. The dates for the next edition have been postponed to 10-13 April 2022.
Organizer Veronafiere, affirmed the decision was thoroughly discussed but the national and international uncertainty led to the final, rational choice of postponing the event, planned to take place in June. Despite the general disappointment, in light of the current health situation, it was a responsible choice, for everyone's safety.
Trade tensions between Australia and China continue
China`s increasing wine consumption and declining domestic production in the last decade, due to internal policies, has brought frustration for local vintners, as the volume of wine imports reached almost half of the total supply on the Chinese market. As China has been for a long time looking to develop its own wine industry, the government seeks to harden its trade policies, to better grasp the control and goods circulation. China`s current heightened interest in self-reliance may come from its Long-term Economic and Social Development Strategy, meant to optimize industry and supply chains, as well as increasing technological innovation and import substitution.
Currently, China is majorly focused on wine imported from Australia, as a result of relaxed trade tariffs since 2015, which made Aussie wine supply almost 40% of the total wine market share. Last November, after conducting an anti-dumping investigation on Australia, China managed to impose tariffs up to 212% on Australian wine imports.
For the past year, Australia has asked China to drop its punitive trade measures that have cost Australian exporters hundreds of millions of dollars. Despite no answer given, the US is now showing solidarity by offering to stand by Australia in this dispute.