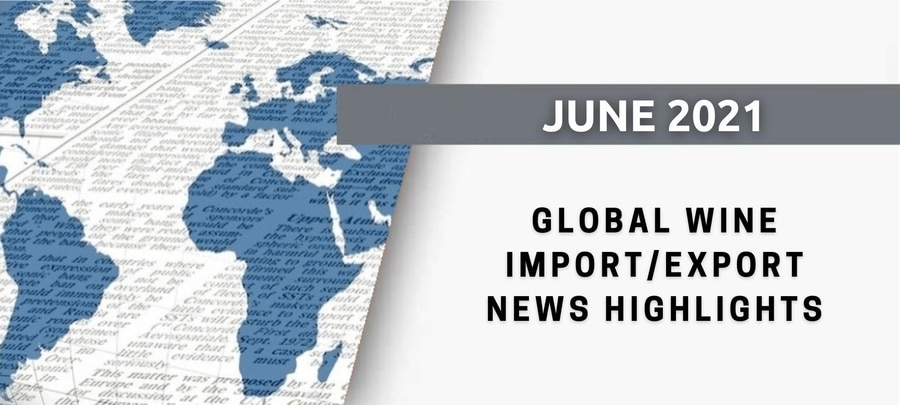 Global Wine Import/Export News Highlights – June 2021

2

min read
Rising alcohol levels in wine
Despite the recent growing global trend towards low and no alcohol wines, at the other side of the spectrum, we can find another preference among wine consumers, namely wines with rising alcohol levels soaring globally. The rising level of alcohol in wines seems to be linked with the grape`s sugar content and with the global warming influence on the vineyards. In the last decades, several vintners from hotter regions seized the higher temperatures, by delaying the grape harvesting to intensify the fruit` sugar content.
Sign-up to discover how our platform can help you reach 33.000 wine importers from around the world.
The subject of alcohol percentage in wine has been a hot topic recently, especially since small changes in alcohol content can strongly influence how wine is perceived. If table wines used to levitate around the 12% mark, today it is more and more common to see wines with 14-15% alcohol levels.
Australia – China trade conflict far from over
After several economic and disruptive measures on trading several goods between the two countries, the conflict between China and Australia seems to continue to escalate. The conflict born due to Canberra's international investigation request about the origin of coronavirus, China (Australia`s biggest trading partner), imposed anti-dumping tariffs and import restrictions for several Australian goods, including wine, barley, beef, lobsters or grapes.
After nearly wiping out exports of Australian wine to the Chinese market, Canberra fights back with anti-dumping measures on Chinese exports of railway wheels, wind turbines, and stainless steel sinks. As the conflict continues with both countries involved filing complaints to the World Trade Organisation over imposed measures,  a bilateral agreement to ease the trade tensions is much needed. Currently, the latest consultation request has 60 days to discuss issues, until WTO bodies will dispute a settlement.
Canned wine trending this summer
With covid measures easing up all around the world, people are happy to live life as they know it, spending more and more time outside, right on time with the arrival of summer days. With lockdown close to being over, and most restaurants and foodservice outlets working to their full capacity, people are back to dining out with friends and family and enjoy spending time in parks, at the mall as well as escaping to a picnic in nature.
With this being said, the demand of already hastened by the pandemic, canned wines popularity is on continuous growth, with canned wines being the best fit for this context, namely casual, affordable, light and refreshing, with their smaller size also contributing to reducing waste and encouraging people to experiment with many varieties.