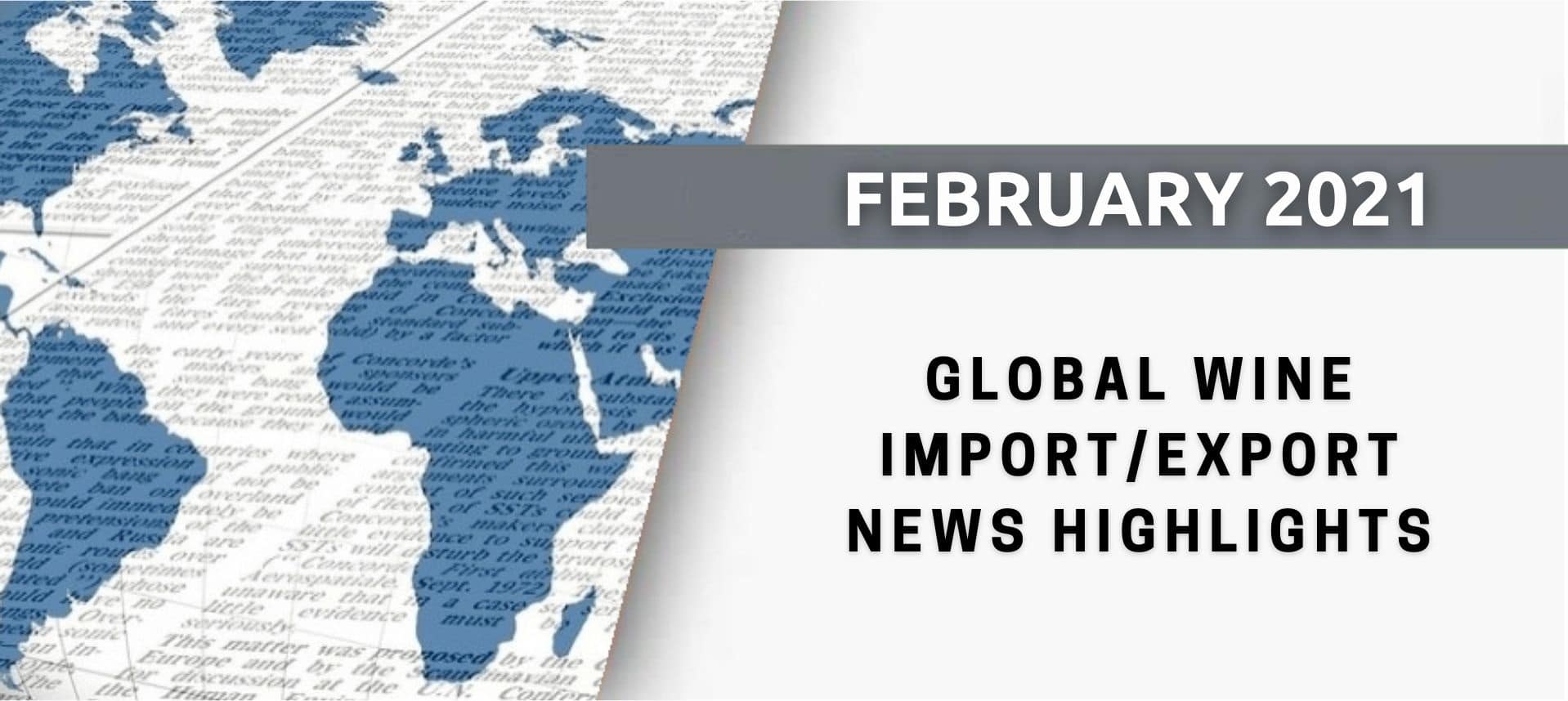 Global Wine Import/Export News Highlights – February 2021

2

min read
New import tariffs due to long-disputed EU-US aerospace trade conflict
Americans start 2021 with a reduced portfolio and higher price points for French and German wines and other grape-based spirits, as a result of the long-running trade conflict between the European Union and the United States over aerospace subsidies. New duties come into effect after the unsolved conflict started in 2014, over government subsidies to Airbus and rival Boeing.
Sign-up to discover how our platform can help you reach 33.000 wine importers from around the world.
Currently, the World Trade Organization has allowed both parts to tax each other's products, meaning that the new 25% US tariff levied on European wines, particularly on French and German wines with 14% ABV, represents a penalty for the European Union.
France, for example, is particularly affected by the US tariffs, as the US represents its largest market for wine and spirits. Last year, shipments to the US declined by 18%. On a good note, French winemakers who register a 50% revenue loss are promised to be backed up by their government, with monthly support of up to €200,000, but people from the wine industry, especially small, family-owned businesses who are most affected by this unending conflict, are pleading for an arrangement between the US and EU, to finally end the harmful taxes, particularly since both Washington and Brussels is interested in finding a solution.
Space-aged wine is returning to Earth
For many years, various things have been sent to space in the name of research. This time, wine enthusiasts can rejoice as a dozen of French wines are returning home, after a one-year ageing journey orbiting Earth.
The wine bottles and vine snippets of French Bordeaux, Merlot, Cabernet Sauvignon sent into space by Space Cargo Unlimited will be opened at the end of February, for an out of this world tasting in Bordeaux, France under the eyes of the country`s top wine connoisseurs. After the specialists' review, the wine will be subject to further testing, as researchers are interested to understand the effects of the experiment, hoping to improve flavour and conservation on Earth. Fortunately, the start-up has more wine-related missions on their agenda.
FDA vs. creative vintners
In 2020, the wine industry once again proved its adaptability and innovation potential as many Italian and French winemakers were turning unsold stock or surplus wine into hand sanitiser, a high demanded item since the coronavirus outbreak.
Although dozens of vintners and distilleries were happily producing and distributing hand sanitiser to people and companies in need, including donations to hospitals, NGOs, charities, etc, the good intentions of giving back to the community were disturbed when several distilleries across the US received surprise fees issued by the Food and Drug Administration.
Following the situation, industry voices asked for a waiver for the companies that produced hand sanitiser as an emergency solution and stopped selling it in 2021. Fortunately, the Department of Health and Human Services cancelled the FDA fees, but wine producers are from now on more careful about their endeavours.