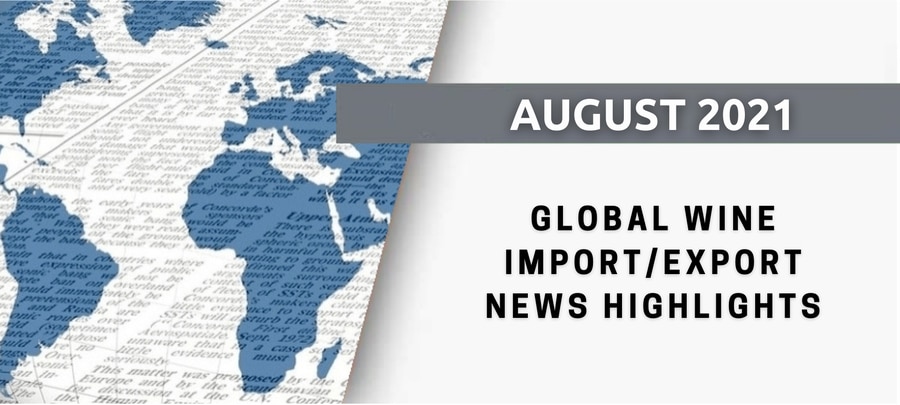 Global Wine Import/Export News Highlights – August 2021

1

min read
Uk closer to shaking hands with New Zealand
The final stages of negotiation between the post-Brexit UK and New Zealand to sign a bilateral free trade agreement have been recently discussed. The deal is expected to be finalized by the end of the month and remove tariffs on goods traded between the two countries, including wine, gin or honey. If trade between the UK and New Zealand amounted to £2.3billion last year, the future outlook seems to promote further growth and competitional advantage for both partners, as well as price point reduction for consumers.
Sign-up to discover how our platform can help you reach 33.000 wine importers from around the world.
Wildfires put wineries at risk
Changing climatic conditions yet again bring turmoil around the globe, with summer wildfires quickly spreading to wineries across France, Italy, Greece, Turkey or the US. In France, a significant number of wineries were badly affected this month by devastating fires broken out near the French Riviera, damaging around 7,000 hectares of land and evacuating thousands of locals. Across the ocean, forest fires have been lurking for weeks, reaching several wine-growing areas. During the harvest season, California is consumed by flames and smoke as the Caldor Fire is wreaking havoc on its way to Lake Tahoe while pushed by winds, the Dixie Fire is similarly troubling Napa county.
Alcohol sales ban amid Covid-19 in Puerto Rico
Caribbean countries are currently struggling with increasing Covid-19 cases, including the newer delta variant.  With an infection rate reaching 10% from 1.5% reported two months ago, the Puerto Rico government has announced restrictions to further prevent the spread of the disease, including closing businesses, prohibiting public meetings, weddings, concerts or other gatherings as well as the sale of alcohol and public drinking between midnight and 5 am. Restrictions are set to last until September 23.