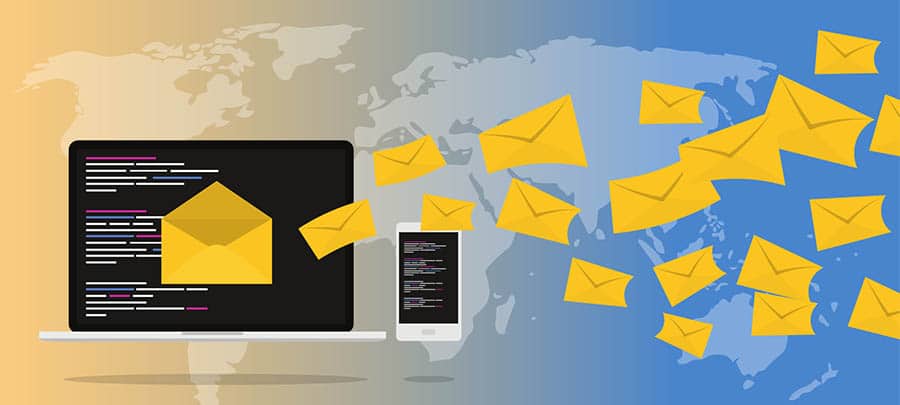 A Complete Guide to Create Great Cold Emails for Wine Importers – plus examples

14

min read
Sign-up to discover how our platform can help you reach 33.000 wine importers from around the world.
1. INTRO
 The email channel has become very competitive nowadays, there are many challenges to overcome, and tips and tricks that can give you an edge over your competition. This guide will help you write and plan a successful cold emailing campaign that should get you the biggest chances to receive positive responses from wine importers and distributors
Many business people think that inbound marketing brings bigger success than cold emailing but at the same time, prospecting is the first stage in the sales pipeline. If you stay passive and wait for clients to find you, you'll never get to those people who don't know about you or your company.
Cold emailing is based on the same mechanism, contacting people who know little to nothing about you or your company in order to build a rapport. This method is also efficient as you also get to test and improve your campaign performance and product development.
2. RESEARCH YOUR PROSPECTS
2.1. Know your buyer persona & customer journey
Crafting a buyer persona is imperative for every effective marketing plan. The recipient is as important as the message and the context, you can`t have one without the other. Before anything else, you must design your buyer persona(s) to know how to frame the conversation and show your prospects that you took time to understand their needs.
Useful data to analyze is background information, demographics, preferences, interests, goals, challenges, motivations, desires, and anything relevant to your business. The common features represent your buyer persona.
There are plenty of channels where to find this information:
Check social media;
Survey your existing customers about what they like about your product;
Analyze your competition;
Check your CRM.
2.2. Research, gather & verify your prospects` emails
Research relevant sources like social media or websites and identify people or businesses that fit your buyer persona. The best and most effective solution is to find a real-time updated database with all the details you need. A platform like BestWineImporters also removes any outdated and invalid email addresses as they can greatly hurt your email deliverability.
After you gathered the information you need, create a list with their email addresses, and check for broken or invalid email addresses as close to the email launch as possible to make sure they are still valid.
2.3. Separate your prospects into groups
For better understanding and connection with your prospects, split them into groups based on who they are and what they are looking for. The more you target and personalize, the bigger the chance to engage with your recipients and make them become satisfied customers or consumers of your content.
To create niche segments, here are the four most popular types of market segmentation:
Demographic: age, sex, occupation, nationality, income, etc;
Geographic: city, country, rural/urban, etc;
Psychographic: interests, values, lifestyles, attitudes, etc;
Behavioral: purchasing habits and behaviour, loyalty, etc.
3. PREPARE YOUR EMAILS
3.1. Write your cold email
a) Buyer`s journey method
After you set up your list of prospects and verified their contact details, it's time to focus on crafting your offer. Take into consideration the three stages of a buyer`s journey in order to personalize your message and think about how you can offer additional value.
The awareness stage: the prospect realizes a problem, want or need;
The consideration stage: the prospect is researching and evaluating the solutions for his problem/need;
The decision stage: the prospect chooses a solution or an approach.
AWARENESS STAGE
"From" Line:
Build trust and credibility right from the start as this field is one of the first things your recipient notices.
Make sure you introduce yourself by offering your details such as your name, occupation, and/or company.
Subject Line:
This field is perfect for To grab the prospect`s attention, add their name or company details in the subject line.
Write in a tone that is casual, and genuine. Some marketers also use lowercase and emojis to humanize this aspect.
The subject line is a great opportunity to create urgencies, such as adding a time-framed deal or discount.
For best results, subject lines should also be short, less than 27 characters.
CONSIDERATION STAGE
Introduction:
Your intro should be attractive and engaging, focused on understanding your prospect`s problems/needs. Stand out by showing empathy, by being an advisor, by creating a connection rather than being just another seller.
You can also perform research to check what competitors use in their cold emails.
Value Proposition:
A value proposition is one of the most important conversion factors. A strong and effective value proposition should be unique and connect your value offer to your prospect`s problem/need.
It is vital to highlight how your product/service solves or improves the prospect`s problem, what are the benefits your product/service offers, and why they should choose you over your competition.
 DECISION STAGE
Call-to-Action:
Create a strong and clear call to action to convince your recipient to act on your desired action. Do you want them to reply to your email, read a full article, download a resource, book a consultation, etc
Stick to only one call to action of great impact.
For best results, use action words, focus on value, and ignite curiosity. Some marketers also like to create here a sense of urgency.
 Signature:
Your signature should include all your relevant details about you and your company: name, title, company name, address, social media links, etc.
For a unique approach, you can also personalize through a tagline or a quote that makes you stand out.
BUYER`S JOURNEY EXAMPLE:
Subject: I created_____[something useful for the prospect] for you [name], what do you think?
Intriguing subject line
Hello [name],
I`m [name], a/an [job] at [company].
Introduce yourself to build trust.
I noticed _____[a recent activity/problem of the prospect] and I wanted to_____[your intention].
Show interest in your prospect and/or make a genuine compliment, if it fits the context.
Would you like to_____[value proposition]?
State your clear business opportunity.
I made _____ for you, to help you with_____[the prospect`s problem].
Offer value.
Let me know when would you like to discuss this matter.
Call to action
Best,
[signature]
b) The AIDA method:
The AIDA model is also a great frame for cold prospecting as it represents the engagement stages a person goes through when he/she is presented with an advertisement.
A – ATTENTION
Grab the recipient`s attention to a particular message.
Include elements of urgency, spark curiosity, and provide personalization.
You can also appreciate your recipient for a recent accomplishment or present a trend/event that is recent and relevant in the industry/region.
I – INTEREST
Hold the subject`s interest.
Offer help for a pain point.
D – DESIRE
Based on the benefits presented, the subject develops a desire for the product or service advertised.
Tell the benefits of your product/service focusing on how it will help the prospect`s problem.
A – ACTION
Here goes your call to action. In this step, the subject performs the sender`s desired action.
AIDA EXAMPLE
Subject: [name], your thoughts on this?
Hello [name]
It looks like we have lots of things in common.
or
X, Y, Z companies have this in common, _____[state a fact that ignites the prospect`s attention].

ATTENTION

I know it`s not easy finding_____[an issue the prospect is facing].

INTEREST

What would you do if you had_____[something valuable to the prospect]?

DESIRE

When is the best time to show you a demo?

ACTION

Best,
[signature]
c) The 3 Ps method: (Praise – Picture – Push) + example
P – PRAISE
Start your email with a genuine compliment;
P – PICTURE
Paint a picture of before and after your product/service;
P – PUSH
Give the recipient a bite of the benefits your product/service can offer and intrigue him/her to want to discover more.
3Ps EXAMPLE
Subject: Let me help!
 
Hello [name],
 
I noticed your impressive knowledge about_____[topic]. That`s great because I`m reaching out to_____[state your intention].

PRAISE

Clients like you always benefit from our____[service/product] because_____[state something relevant]. With our help you can also_____[state the benefits of your product/service].

PICTURE

When is the best time to have a conversation on this topic?

PUSH

Best,
[signature]
3.2. Plan the timing of your emails
Finding the perfect time and date to send your cold email has a huge impact on your success. Research reveals the best day for sending emails is Tuesday, followed by Thursday, in the early mornings and evenings. Don`t forget about time zones either.
You can try to launch your emails according to this schedule, but remember that personalization is key. For best results, experiment with what works for your audience and optimize your data based on your prospects` feedback.
3.3. Check your email deliverability
a) Do A/B testing:
As a salesperson, your main goal is to bring value to your customers. In this case, A/B testing is a perfect time and cost-effective tool that gives you the ideal context to explore, measure, and improve your email campaign at any time.
| | |
| --- | --- |
| : ) | : ( |
| Version A | Version B |
 Decide what you want to test, but don`t forget it`s important to test on a large group and only one thing at a time for accurate feedback.
You can test any element of the email to see what sparks your audience`s interest but the following are the most popular:
Call to action
Subject line
The email layout
Adding/removing media content
Adding/removing questions
Your offer
b) Perform a SPAM test:
As spam filtering is becoming more rigorous with time, make sure your content is optimized the right way, that your sender reputation won`t suffer and your emails won`t be blocked by spam filters.
Content-wise:
Don`t use misleading data;
Check and avoid spam triggering words and phrases;
Avoid rich media content with no text;
Avoid using lots of exclamation points;
Avoid writing words in capital letters;
Avoid URL shortening;
Offer a clear, easy, and visible for your recipients to unsubscribe to your emails and honour their decisions in the next 10 days.
Reputation-wise:
Avoid inconsistency in frequency and volume of your emails;
Check the domain reputation of links in your content;
Check to see if you were blacklisted;
Warm-up your domain before launching your email campaign;
Check your emails' legality;
Encrypt your text with a Transport Layer Security (TLS) to offer privacy and data integrity;
Use a Domain Keys Identified Mail (DKIM) to allow the receiver to verify the sender`s authority;
Utilize a Sender Policy Framework (SPF) to check your sender IP.
c) Optimize your email for every display
In these times, more and more users are reading their messages on a tablet or mobile. Statistics say that 60% of emails are now opened from mobile devices. Non-responsive email designs could deal a lot of damage to your business, both in terms of quality or quantity.
The reader`s experience is one of your first priorities. As people have their preferences, you must be available to a bucket of means of communication to your customers, so it is imperative you optimize your email for all displays – Mobile / Desktop / Tablet.
 d) Don`t send attachments
Don`t include attachments in your emails as:
No one has the trust to open attachments from a stranger;
No one has time to read them;
Spam filters may block the email;
They represent a risk of malware.
Instead, use the content of the attachments to create valuable calls to action and/or follow up emails.
e) Links
The ideal way is to not include any links in your email, which can increase your deliverability significantly, but if you have to, don`t insert more than two relevant links in your emails.
You can use links to test which offers are more successful;
You can add a link with further information about the topic in your email;
Keep your links easy to identify and labeled;
Don`t use misleading information. Links should go where they are supposed to.
f) Email length
Time is money and people won`t read if you don`t spark and maintain their interest. Make sure the text is short and to the point, at a maximum of 125 words. Short messages work best with cold emails as they efficiently grab the reader`s attention and get to the point but if you want to spark an emotion with a story, that`s up to you. Despite the guidelines, only you can set the ideal length for your cold emails.
3.4. Best practiced in cold emailing
a) Consider your prospect's perspective
Remember, the prospects don`t know you, so put yourself in their shoes and check how you would respond to your email. What do you expect to see and what could you improve in your email? See your message from your recipient`s point of view and ask yourself relevant questions that will help you craft a valuable and successful email.
What do they know about me or my company, my product or service, the industry, etc?
Why would they hesitate in buying my product/service?
How can I help them in the short term and in the long term?
b) Reference a connection or a common feature you share
Having a person you both know or you both care about is a key that will trigger the recipient to open the email. Finding a common ground is a great way to connect with anybody. For this step, you can scan the online environment for mutual connections or topics to discuss with your potential client.
c) Include visual objects to grow engagement
Visual content, be it images, videos, charts, infographics or GIFS has a key role in email marketing. Consider adding personalized images and videos to your cold emails as they improve engagement and conversion rates.
Remember to not attach the images, but to insert them into the email body;
Think about the load time so try to keep the images small;
Include alternative text in your images that will explain the content of the image as some people turn off their image displaying;
Be careful not to use copyrighted materials.
d) Personalize your emails
Personalize your emails to sound human, genuine. The more you personalize, the better chances of engagement with the email recipients.
If the context is right, consider inserting a sentence about your prospect to show that you took time to look them up on online channels and make them feel special;
Include your prospect`s name in the subject line;
Craft a personalized offer for your prospects.
 3.5. Write and plan your follow up strategy
Follow-ups are extremely underrated but they are one of the most efficient ways to conversions just because the lead is already warmed up.
There`s no formula for the best follow-up plan. You should send as many follow-ups as you need, but don`t forget to consider keeping a consistent frequency and know when is the right timing for each one. Do your research, check the guidelines, but at the end of the day, plan a schedule that works for you.
You can also separate and prioritize the customers that show the most interest for a more targeted and successful approach.
Very few prospects reply the first time around, so it`s important to be consistent with your email sequence.
Steps of crafting a follow-up email:
Decide what is your purpose of reaching out to your prospect.
Ask for more information;
Ask for feedback;
Say thank you;
Send a simple reminder;
Check if they saw the previous email.
Craft a subject line that grabs attention and also sums up the message. You can also create a sense of urgency by adding a timeframe to your offer.
State the context at the beginning of the email so the prospect knows who you are and what is the follow-up about.
Example 1: Our friend, [mutual friend's name] suggested that I contact you.
Example 2: Last time we talked about___ [topic].
Example 3: I`m emailing again because___[topic].
Bring additional value by being a trusted advisor, not just a salesperson.
Insert a clear call-to-action.
 Keep your emails brief and to the point.
FOLLOW UP EMAIL EXAMPLE – Provide value after a discussion
Hello [name],
Last time we talked, you mentioned you love trying new foods like____. I saw this ____[article/event/etc] and I thought you might like it.
Let me know what you think!
Best,
[signature]
4. CONCLUSION
To sum up, there are three main pillars that you have to consider when you start preparing your cold prospecting:
THE PROSPECT

THE CONTEXT

THE MESSAGE

Do your research before contacting your prospect;
Know your prospect`s pain points;
Know your product/service very well.

 

Build rapport;
Why did you contact the prospect?;
What action do you want your prospect to take next?.

 

Show how you can help;
Show how you helped other clients;
Trigger an emotion;
Keep a casual tone;
Be clear and straightforward;
Keep your emails short, intriguing and readable;
Include a sense of urgency.
[/vc_column_text][/vc_column][/vc_row]