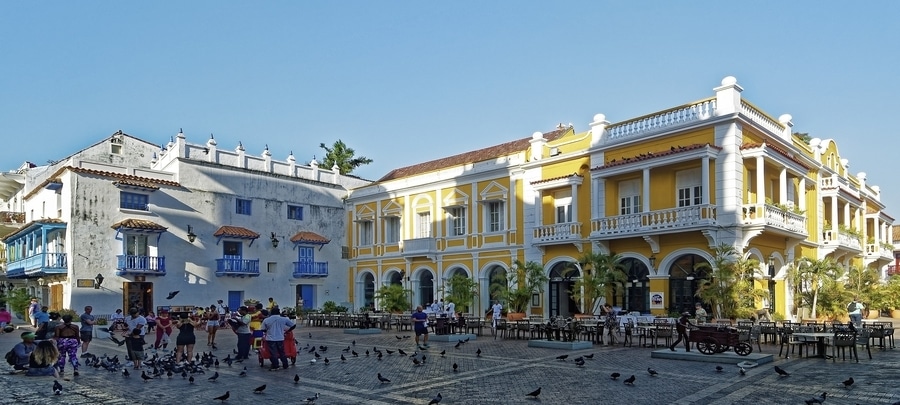 Wine Importers and Wine Import Trends in Colombia 2021

4

min read
Home to approximately 50 million inhabitants and nourished by significant economic growth in recent years, the Latin American country of Colombia is steadily becoming a fast-growing market and a top destination for worldwide wine exporters and investors. Although rooted as a country of beer and spirits, in recent years Colombia`s wine culture has witnessed significant growth due to a myriad of market developments and consumers` habits. The increase of wine market suppliers and sales channels, residents` income growth, wine knowledge thirst and the widening of the wine consumer base are just a handful of market drivers that signal a promising forecast for the country with the second-largest population of Spanish speakers, also nicknamed, "the gateway to South America."
Sign-up to discover how our platform can help you reach 33.000 wine importers from around the world.
Market overview
Despite wine being consumed less than other alcoholic drinks, wine has become a drink denoting social status, also chosen for special celebrations and social gatherings. In recent years, urbanization and the rise in disposable income of the population have significantly contributed to the increase in per capita wine consumption as well as help expand the wine consumer base.
When it comes to their favourite imported wines, brand quality and price points seem to be vital points for wine buyers. Colombian consumers like sweet and fruity varieties, with fuller bodies and less acidity. Women and younger consumers have a taste for light-bodied, white, rose and sparkling wines due to the perception of health benefits while men, seniors and tourists drive the sales of fuller-bodied, premium wines. 
Boosted by the efforts of Colombian wine importers, retailers and restaurants to develop the local wine portfolio and enhance wine accessibility, consumption of wine has extended to lower-middle classes and younger generations, as well as women who have become a niche segment for alcoholic beverages, for their demand of more sophisticated drinks.
The increased interest for wine also drew momentum in the market, bringing more sommeliers into the picture and nonetheless more consumers avid for wine knowledge, making consumers more adventurous and more prone towards the consumption of quality wines.
On the other side of the coin, over the years, the taxation of alcohol and the wine sector has created a significant price sensitivity in consumers. Following a new tax system in 2015, wines with higher price points have been losing ground in favour of more affordable varieties, but at the same time, the retail market was able to introduce a wider spectrum of low priced wines, to the joy of lower-income families.
Market competition
In terms of local wine production, the creation of Colombian wine is limited to little volumes due to a problematic climatic landscape, namely the lack of clear seasons, thus the country is highly dependent on wine imports.
The major countries that supply Colombia are those connected by free trade agreements that create easier access conditions as well as countries that benefit from geographical proximity. As a result, the Colombian wine market sees lots of wines from Chile and Argentina, but also varieties from EU countries, especially France, Spain or Italy, thanks to the duty-free access of the EU-Andean Free Trade Agreement.
Despite the expanding portfolio of imported wines on the market thanks to favourable FTA, opportunities on the Colombian wine market are also predicted to grow towards wines from countries that were previously restricted by high duties.
In terms of sales and distribution channels, wine in Colombia is present mostly in off-trade channels like supermarkets, hypermarkets and discounters, which recently have witnessed a boosted growth due to the at-home consumption imposed by the Covid measures, as well as lower price tags and diversity. E-commerce was as well an appreciated channel for buying wines, especially for its convenience and contactless delivery.
Exporters of wine interested in the emerging wine market of Colombia must take note of the current market conditions and trends when creating a market entry plan. Other useful tips to help penetrate the market are targeting the most affluent, urbanized, and tourist prone regions like the cities of Bogota, Medellin or Cartagena as well as taking advantage of international wine fairs and expos like EXPOVINOS 35.
Last but not least, a pivotal part of a successful strategy is linked to finding a reliable local importer or distributor, who can further help with valuable insight in market positioning.
Wine Importers from Colombia:
Clos S.a.s
Address: Carrera 4 # 69-13 Oficina 302 Bogota, Cundinamarca, Colombia
Phone: +57 1 5455155
Website: closcolombia.com
Voilà Vinos
Address: #43a-17 Calle 11B, Manila Medellín, Antioquia, Colombia
Phone: +57 301 4026971
Website: tiendavoilavinos.com
The International Executive
Address: Calle 134 # 9 A 88 Bogota, Cundinamarca, Colombia
Phone: +57 1 6330858
Website: tinterex.com/tie
Producers interested in Colombia`s wine market can find a database with top wine importers, distributors and retailers here.