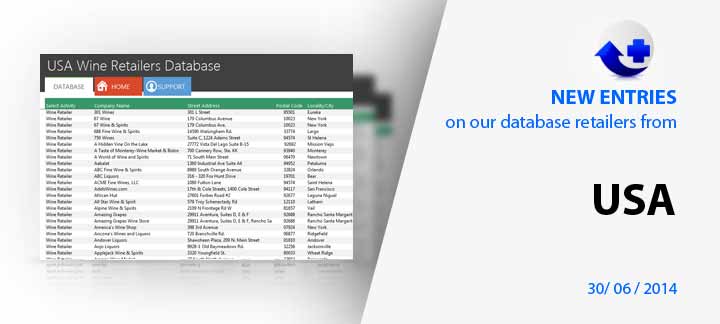 New entries update: United States – Wine Retailers Database

1

min read
"Bestwineimporters.com" has now released an update for the United States – Wine Retailers Database. 350 new entries: wine stores registered in United States! In total, the database now contains 982 wine stores. As usual, the contact information for all 982 entires were reviewed and updated.
Sign-up to discover how our platform can help you reach 33.000 wine importers from around the world.
The following link leads you to the updated version of the database, in Excel format.
Here are some of the new wine retailers companies that have been added on our database:
ACME Fine Wines, LLC from Saint Helena, Blue Danube Wine Company from Los Altos, Heritage Link Brands, LLC from West Hollywood, La Costa Wine Co. from Carlsbad, The Wine Emporium, Inc. from Sebastopol, VinAccess International LLC from San Rafael, Avila Wine Company from Avila Beach, Ojai Beverage Company from Ojai, Golden West International, Inc from San Francisco.