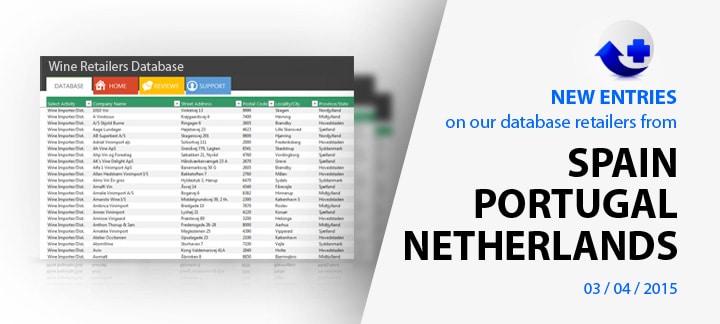 New Entries Update: Portugal, Spain & Netherlands – Wine Retailers Database

1

min read
Today, 03.04.2015, new wine retailers have been added to our Wine Retailers Database from Portugal with 78 wine stores, Spain with 366 wine stores and Netherlands with 700 wine stores. Each and every entry contains updated contact information and, for some, the contact information for the persons in charge with the wine acquisitions.
Sign-up to discover how our platform can help you reach 33.000 wine importers from around the world.
Below you will find some examples of the new entries:
Portugal: Fricerve II – Soc. Dist. de Bebidas de Matosinhos Lda from Maia, Loja dos Vinhos – António Silva Rosas, Lda. from Braga, Osório Silva e Ribeiro, Lda from Lisbon, SweetValue Lda from Setúbal
Spain: Abad & Vins S.L from Cataluna, Bodegas Argonesas Multicanal S.L from Aragon, Bodegas Argonesas Multicanal S.L from Aragon, Celler del Cava S.A. from Barcelona, Dcantavinos S.L. from Andalucia
Netherlands: Domburg's Kaas, Noten & Wijn V.O.F. from Gelderland, V.O.F. Ildivino Wijnwinkel from Noord-Holland, Mitra Slijterij M van Bergen from Noord-Brabant, Slijterij d'Ommerdiek from Overijssel, Wijnhandel & Slijterij 't Okshoofd from Gelderland
Here is the link to the download page of the updated version of the database, in Excel format.