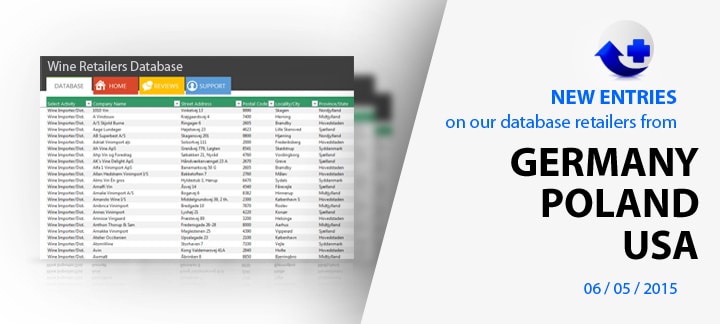 New Entries Update: USA, Germany & Poland – Wine Retailers Database

1

min read
We are pleased to announce that the Wine Retailers Database is now updated with 330 new entries from United States with 239 wine stores, Germany with 73 wine stores, Poland with 11 wine stores and Czech Republic with 7 wine shops. Each and every entry are currently active in the wine retail market, contains updated contact information and, for some, the contact information for the persons in charge with the wine acquisitions.
Sign-up to discover how our platform can help you reach 33.000 wine importers from around the world.
Below you will find some examples of the new entries:
USA: Maine Beer and Beverage Co. from Portland with over 1,000 wines, The Little Wine Shop from Avondale Estates sells wines from France, Germany, Italy, Spain, Australia, New Zealand, South Africa, United States, Meyer Retail Liquor from Topeka with 3,000 diferent wine options, Wine Made Simple, LLC from Charlottesville, Prairie Creek Liquor LLC from Lenexa
Germany: Abramzik Markt GmbH + Co. KG from Baden-Württemberg, Globus SB-Warenhaus Holding GmbH & Co. KG from Saarland, Marks Feinkost Eat Good Food GmbH & Co. KG from Bayern, Wein Eger online Bayha GMBH from Baden-Württemberg, Wein-Garten Weinhandel UG from Nordrhein-Westfalen, Weinhandlung Molitor e.K. from Recklinghausen
Poland: Alraf A.Uciński, R.Burak s.c. from Mazowieckie, Wina Swiata-Prowin from Podkarpackie, ZPU Zapro Spółka z o.o. from Gdańsk
Czech Republic: TerraVina Red Rubin S.r.o from Praha, Vino Italiano S.r.o. from Praha 4, VinoDoc S.r.o. from Praha
Here is the link to the download page of the updated version of the database, in Excel format.