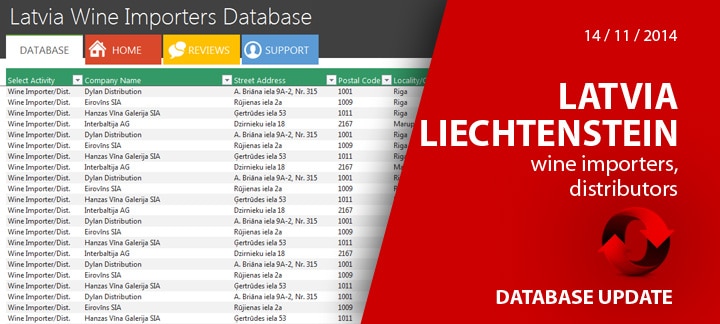 Latvia & Liechtenstein Database Update!

1

min read
The "Bestwineimporters.com" team is pleased to announce our future and present customers that the entries for Latvia and Liechtenstein wine importers and distributors have been verified and revised.
Sign-up to discover how our platform can help you reach 33.000 wine importers from around the world.
As an example, below you will find a list of some of the companies that changed changed their address, their telephone numbers or their e-mail addresses: Dylan Distribution – Latvian company importing wine from Italy, France, USA, South Africa, Australia, Argentina, Chile, Spain (producers: Chateau Cissac, Cantine Settesoli, Terra Andina, Bodega Familia Schroeder, Mad Fish); Wal-Di-Vin – Liechtenstein company importing wine from Germany and Austria (producers: Bayer Heribert, Carter, Hirtzberger, Paul Kerschbaum); Interbaltija AG – Latvian company importing wine from Spain, Australia, Italy, France, Argentina (producers: Trapiche, Domaine Ste. Michelle, Stimson, Lindemans, Penfolds, Castillo de Molina, Cono Sur).
Via the following link, you can now download this new update, in Excel format.