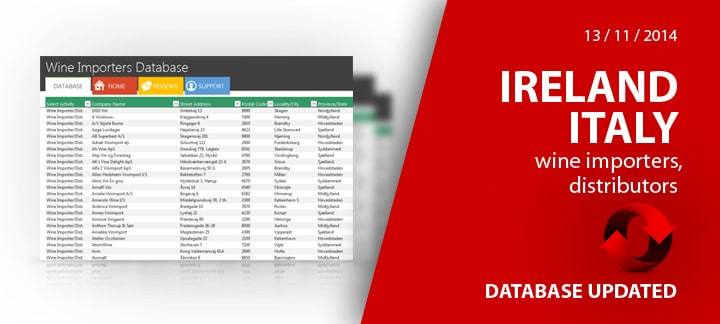 Ireland and Italy Wine Importers Database – Update!

1

min read
Today, 13.11.2014, the "Bestwineimporters.com" market research team has finished revising the information contained in the Ireland – Wine Importers Database and Italy – Wine Importers Database packs, the updated versions being now released for our faithful and future customers alike.
Sign-up to discover how our platform can help you reach 33.000 wine importers from around the world.
Some companies have, in time, changed their address, their telephone numbers or their e-mail addresses. Here are some examples: Cabot and Co. Fine Wines – importer of French, Spanish, Italian, German, Austrian, Slovenian and New Zealand wines (producers: Domaine Mugnerert-Gibourg, Meo Camuzet, Domaine Roumier); AfriWines S.r.l. – importer of wines from Italy and South Africa (producers: Belbon Hills, Idiom Wines, Linton Park Wines, Diemersdal, Cape Dreams, Savanha Wines); Ercole Brovelli s.r.l. – importer of wines from Italy and France (producers: Hugel, Bruno Clavelier, J. J. Vincent, Thevenet, Domaines Baron de Rothschild, Bonini, Podere Forte, Mariotto).
The following link leads you to the updated version of the database, in Excel format.