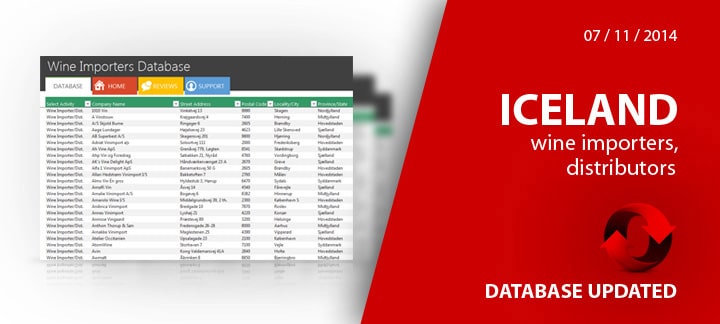 Iceland – Wine Importers Database – Updated!

1

min read
Dear valued customers and future customers, we are happy to announce that the wine importers and distributors entries for the Iceland database have been revised.
Sign-up to discover how our platform can help you reach 33.000 wine importers from around the world.
Here are some of the companies that have changed their address, their telephone numbers or their e-mail addresses: Haugen-Gruppen EHF – importer of wines from Argentina, Armenia, Australia, Chile, France, Italy, New Zealand, Portugal, Spain, South Africa (from the following producers: Mont Marcalm, Quinta do Portal, Cune, Vicar's Choice, Willm, Pol Roger, Palmes d'Or); Rolf Johansen & Company – importer of wines from all major wine regions of the world such as France, Italy, Germany, Spain, Australia, New Zealand, Chile, Argentina and South Africa; Karl K. Karlsson EHF – importer of wines from Spain, Italy, Chile, France (from the following producers: Symington Family Estates, Torres, Bolla, Barone Ricasoli, H. Sichel Sohne, Villa Maria, Errazuriz, Marimar Estate).
The updated database can be downloaded in Excel format via the following link.