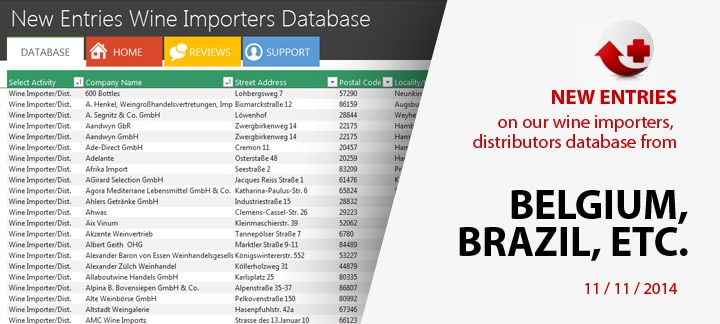 Germany, Brazil, Belgium Wine Importers Database – NEW ENTRIES!

1

min read
Today, 11.11.2014, the "Bestwineimporters.com" market research team has finished revising the information contained in the Germany, Brazil and Belgium wine importers database packs, the updated versions being now released for our faithful and future customers alike.
Sign-up to discover how our platform can help you reach 33.000 wine importers from around the world.
Some companies have, in time, changed their address, their telephone numbers or their e-mail addresses. Here are some examples: Karlheinz Haus GmbH – importer of wines from France, Italy, Spain (producers: Torre Maria, Morelos, Casa Antonette, Brucker, Henri Maison, Chateau Pontet-Chappan, Clos du Roy, Domaine Nicolas Rossignol); F. Vallejo Importadores – importer of wines from Argentina, Chile, France, Portugal, South Africa (producers: Benjamin Nieto, Vistaña, Gato Negro, Moulin Au Vent, Chateauneuf du Pape); Portu Vinho – importer of wines from Portugal (producers: Quinta de Cidrô, Quinta do Casal da Granja, Quinta do Ferro, Quinta dos Aciprestes, Terras de Alter – Fado).
The following link leads you to the updated version of the database, in Excel format.