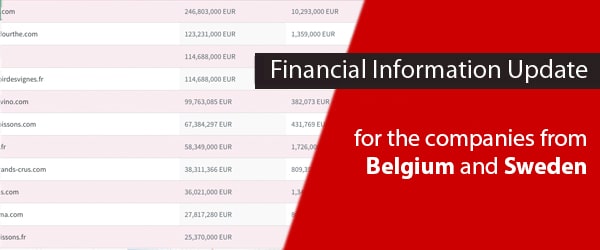 Financial Information Update for Belgium and Sweden

1

min read
BestWineImporters announces the latest financial data update for the wine, beer and spirits importers, distributors and retailers from our databases, who operate in Belgium and Sweden.
Sign-up to discover how our platform can help you reach 33.000 wine importers from around the world.
The new data includes profit figures for 285 companies from Belgium and for 163 companies from Sweden, as well as turnover details for some of the importers, allowing you to find the right partners for your business.
The financial information is also useful in determining the size of each importer (small, medium or large).
To gain access to the updated financial information, plus to the complete contact details of more importers and distributors from various regions around the world, you can purchase one of the BestWineImporters databases!