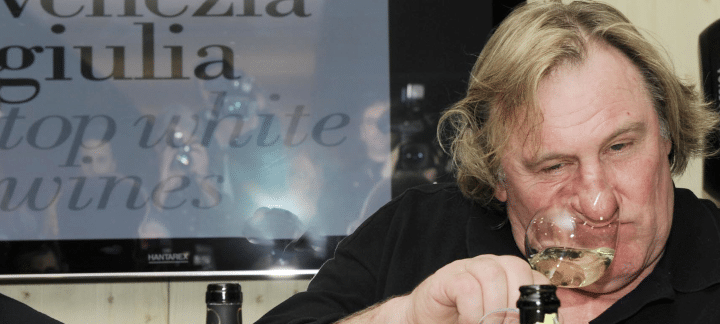 GERARD DEPARDIEU ABOUT WINE – 14 Bottles a day

2

min read
In this editorial featurette for the "Bestwineimporters.com" website, prepare for being regaled with a change of tone. Steering away from the serious business discussions and presentations, we shall now find out what a famous movie star thinks about wine. In a recent interview, the great french actor Gerard Depardieu talked about his love of wine. While promoting his film "Welcome To New York", in an interview with So Film, the 65-year-old French actor declared: "Cinema is not the only thing I do, luckily. I hang out with artists, I travel, I'm into cuisine, and wine."
Sign-up to discover how our platform can help you reach 33.000 wine importers from around the world.
However, the bohemian personality side that is typical to many movie stars shines through also in this particular case and, might we say, at this particular age. "But if ever I start drinking…", continued the French actor, "I can't drink like a normal person. I can absorb 12, 13, 14 bottles…per day. But I'm never totally drunk, just a little pissed. All you need is a 10-minute nap and voilà, a slurp of rosé wine and I feel as fresh as a daisy !"
Even though the French movie star stated that "When I'm bored, I drink," he also taked about "occasional compulsory moments of abstinence," saying the following: "After undergoing bypass surgery (five times), and also because of cholesterol and stuff, I have to be careful." After this moment of responsible "sobriety", he switched gears once again, saying: "Anyway, I'm not going to die. Not now. I still have energy…" and went on to talk about his reputation: "I don't care about reputations. No one knows me, not even myself … Ego is just a way of being reassured. That's why the word exists. If you are free, you don't need to be egocentric. You can do whatever you want to do, without paying attention to what people think. Do you think that if I was egocentric I could approach Jean-Paul II, Mitterrand, Castro, Putin, and all those kinds of people? I don't care about having an ego."
Gérard Xavier Marcel Depardieu, aside for being a famous actor, with multiple nominations and awards, including a Oscar nomination, a businessman and a film-maker, is also a vineyard owner, owning several wineries across the globe, the most famous being Chateau de Tigne, and being very active in both the production and business dealings of his wineries. He even has listed in his passport his occupation as "vigneron".
Image courtesy of Luca Ciriani – Some rights reserved
© www.bestwineimporters.com 2014