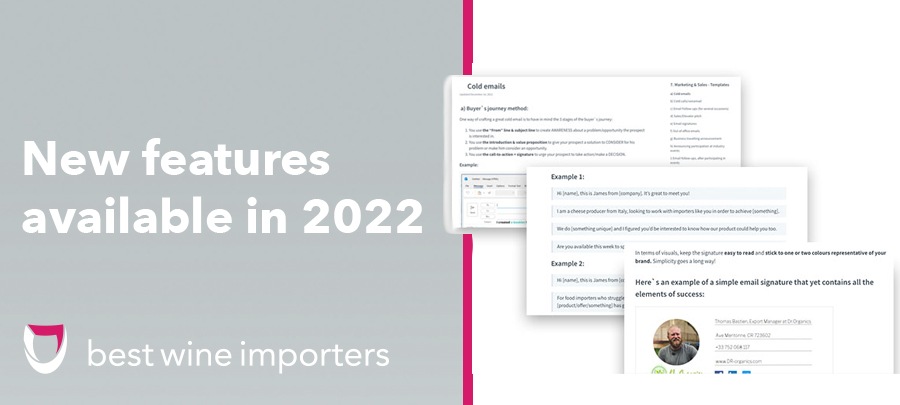 BWI – Discover What's New in 2022

1

min read
We're starting 2022 with a number of exciting features that aim to both increase the complexity of the data that BWI provides and also offer our clients valuable resources in a complex Marketing Academy section.
New Features Available in Q1 2022
Marketing Academy – We have created a collection of email and cold call templates plus a wide range of guides that will help producers create a solid marketing email, choose the right subject, and present an attractive offer to a potential buyer. Available in the Help Center section of the platform
Company Type – The companies are now clearly categorized as Importers, Distributors, Retailers, Online Stores, Brokers/Agents, Large Retail Chains
Company Size – We have reworked the company size system, which is now based on the number of employees, and added the data to the majority of the companies
Multiple Websites – If a company has more than one website, all the extra ones are now displayed on its profile
We have also added and improved the quality of the Financial Data for a number of countries and greatly increased the number of contact persons available for each importer.
Sign-up to discover how our platform can help you reach 33.000 wine importers from around the world.
To discover the new elements coming to BestWineImporters in 2022, users can login here.