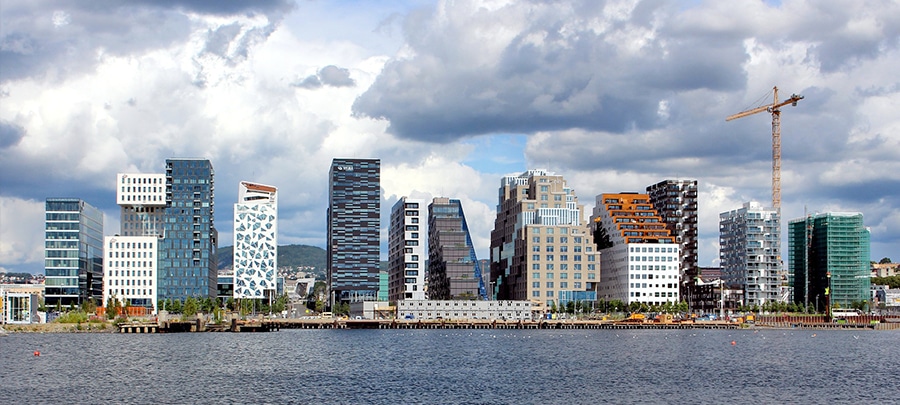 Norway Wine Importers and Wine Import Trends 2020

3

min read
Norway's wine market is quite atypical, not only because of its monopoly, Vinmonopolet, but also because many Norwegians prefer to travel to Sweden to purchase alcoholic beverages, thanks to the neighboring country's lower excise duty. These particularities are well worth studying because Norway is still a solid export market for wine producers worldwide, with an import value of $431.8 million in 2019.
Sign-up to discover how our platform can help you reach 33.000 wine importers from around the world.
Norway might not be the place you envision when you think about wine tradition, but the country remains among the key consumers of wine in Europe. Since the 90s, per capita consumption of wine increased strongly, reaching a volume of almost 18 liters in 2018.
Wines from Italy and France are the most popular ones – almost two-thirds of all imported wines come from these countries alone. The total market share of wines from Spain, Germany and Portugal totals another 20%.
Wines outside EU come from the USA and a very small percentage from Australia. Most U.S. wines are Californian, the red ones being the most demanded. Imports of wines from the United States grew by 150% between 2012 and 2017 to $14.2 million
Wine Monopoly
Wine producers who plan to sell in Vinmonopolet stores need to work with a Norwegian wholesaler who is registered with the Norwegian Directorate of Customs and Excise. All the information required for starting a partnership can be found here.
Norway has one of the most restrictive alcohol control policies in Europe. Wine is heavily taxed and is also expensive than in other Nordic countries. Government policy on alcohol is very restrictive, there is no consumer advertising, marketing is restricted and high taxes are imposed.
Wine columns in newspapers and magazines are acceptable and are among the only forms of information available to consumers outside the alcohol stores.
The sale, import and distribution of alcoholic beverages with an alcohol content higher than 4.75% is handled by Norway's alcohol monopoly Vinmonopolet, which was established in 1922. Annually over 70 million liters of alcohol is sold through the 315 Vinmonopolet stores, located across the country from cities to smaller communities. Despite being a monopoly, the variety of products offered is quite high – over 20.000 products, which means that opportunities are there for producers who are willing to go the extra mile. The system is quite popular, 80% of Norwegians saying that they want to keep their Wine Monopoly, viewing it as a beneficial factor for their health.
Norwegians also increasingly buy wine and other types of alcohol from duty-free shops and from Sweden, where prices are usually 50% lower for most varieties of drinks.
Wine Trends
Oslo is Norway's wine epicenter, the place where most wine importers operate and also where the sommeliers, part of the Sommelier Association in Norway has been cultivating local tastes since 1991. The city's wine bars are starting to see clients not only on weekends, like in the past but also for the weekdays when young professionals meet to socialize.
Rose has seen a major surge, with an over 26% increase in 2018. The warmer summers also boosted sales of white and sparkling wines, which were low compared to the popular reds, that still hold over 50% of the market
Bag-in-box is a huge trend in Norway and more than half of the wine sold in the country comes in this format. Things are expected to slowly shift towards bottled, however.
Like in many parts of Northern Europe, lighter, organic and biodynamic wines are also becoming more and more popular among health-oriented consumers.
Despite prices being already high, Norway is also seeing a trend towards premium and more expensive wines.
Wines from other regions of the world, especially reds from South America are also starting to gain traction.
WINE IMPORTERS IN NORWAY
Amka As
Address: Sandakervein 24d, F2, Oslo
Phone: 004723114910
Website: www.no-amka-group.com
Bare Vin
Address: Vollsveien 116B, Jar
Phone: 004791127696
Website: www.barevin.no
Engelstad
Address: Karenlyst Allé 10, Oslo
Phone: 004722123500
Website: www.engelstad.no
Producers interested in the Norvegian market can find a database with top wine importers, distributors and retailers here.