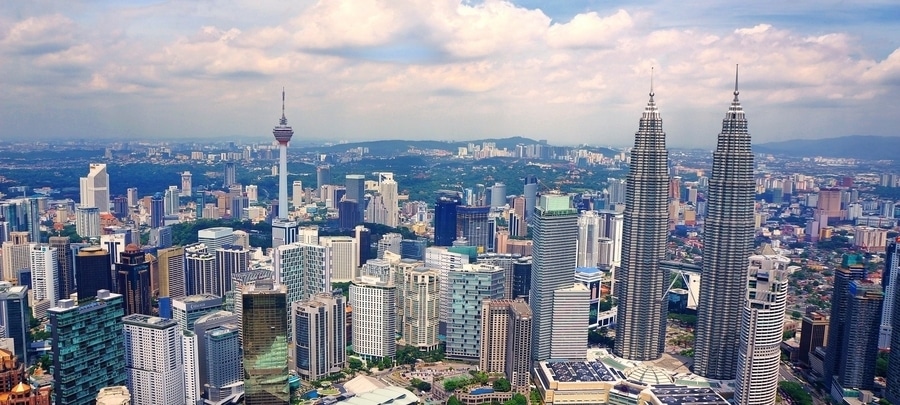 Wine Importers and Wine Import Trends in Malaysia 2021

5

min read
Despite being partly hindered by the Muslim population (non-alcohol drinkers), wine consumption in Malaysia is more and more a lifestyle habit, especially for the younger generations and tourists, who are educated in the language of wine and follow the trend of social drinking and home consumption, demanding new experiences and creating attractive opportunities for wine exports from around the world. Moreover, Malaysia's market-oriented economy, combined with its small but rapid wine drinking culture development, efforts to further liberalize imports, and strategic location along the Strait of Malacca, brings Malaysia on the map for wine export destinations.
Sign-up to discover how our platform can help you reach 33.000 wine importers from around the world.
Market opportunities & challenges
Malaysia became a wine-drinking country when indigenous people from the island of Borneo have been preparing homemade rice wine during their festivities. Later, foreign merchants and colonies have introduced the country to foreign wines and drinks, as well as their drinking traditions.
Today, about 70% of the population lives in urban areas, which have a higher alcohol consumption rate, particularly Kuala Lumpur, Sarawak and Sabah. Despite the high alcohol taxes (sin taxes), alcoholic beverages are in significant demand and even lead to drinking unsafe alcohol or alcoholic beverages smuggled illegally from outside the country. In this sense, wine has become a favourite drink to be enjoyed socially with family and friends, and over the recent years has become a  great gift option and a preferred drink for celebrations due to being a healthier alcoholic beverage.
The annual 25 million tourists per year, growing income of the residents, and the cultural heritage of the population have lead to the diversification of the foodservice chain, like restaurants, pubs or fast food outlets, which in turn created a demand for a wider range of foods and beverages from several international cuisines, as well as wine tastings and pairing events.
Moreover, drinking wine at home, to relax after work is perceived as classy and has become a habit influenced by the western lifestyle. This interest and increasing attention for acquiring wine knowledge are further boosting the demand and consumption of wine, especially from the premium category.
Despite being a multi-ethnic and multi-cultural country, with minorities of Chinese, Indians, and indigenous people, additional to the Malays, the country has a relatively small consumer base for alcoholic beverages due to the Muslim population, but attractive and competitive, with no domestic wine production. There are many opportunities for producers interested in supply the wine market, including a favourable import environment and positive market growth over the past years, who is forecasted to reach US$990 Million by 2021.
Consumer trends & favourites
For both residents and tourists, wine is among the favourite alcoholic drinks, prefered for its affordability, sophisticated colour as well as healthy properties, and is best served paired with food, at celebrations, at home, or consumed socially.
For exporters, there are a plethora of opportunities on the Malaysian market, as the local scene is demanding a wide range of wine varieties, for both rookies and connoisseurs. The general, occasional wine consumer will tend to buy according to affordability while more and more connoisseurs and higher-income buyers are looking at quality and status. Special packaging, promotions, bundles or free samples are also effective marketing tactics used by wine retailers.
Besides a good price, Malaysian wine importers are looking for new sortments to introduce to the market, as the diversified cuisine and the western influence is creating demand for a variety of wines to complete the culinary experiences and to explore new tastes and better quality wines.
Red wine has the biggest market growth and dominates the market for being seen as a healthier choice while white varieties and sparkling wines are increasingly chosen for being lighter. Moreover, the younger generation of Malaysians who are more travelled, are leading the demand towards new world wines, including wines imported from Europe.
Market suppliers
With scarce domestic wine production due to an unfavourable, hot climate, the competition of international wines on the Malaysian market is creating many attractive opportunities.
Price-sensitive residents get their wine from modern retail outlets like supermarkets who offer a wide range of affordable wines, while connoisseurs choose to buy wine from speciality stores, restaurants or clubs. The foodservice and hospitality sector supply themselves from local importers and distributors while food processors and larger retailers can also directly supply from the producers due to bigger volumes requests.
With the country depending on imports, the nation has signed several favourable trade policies, including several Free Trade Agreements with​ Australia, Chile, India, Japan, New Zealand, Pakistan, and Turkey, not to mention its strategic position in the Strait of Malacca, one of the most important shipping lanes in the world. The main wine supplying countries are Australia, France, Chile, or the USA.
As business relationships with Malaysians are generally developed slowly and take more time, quickly finding a local importer or distributor will provide the most efficient way to enter Malaysia`s wine market.
Wine Importers from Malaysia:
Mega Express Sdn Bhd
Address: Ground Floor, No.2 Jalan Jati, Kota Kinabalu, Sabah, Malaysia
Phone: +60 3-8826 6801
Website: winecellars.squarespace.com
Boutique Fine Wine And Spirits Sdn Bhd
Address: No.3-1, The Highway Centre, Jalan 51/205 Petaling Jaya, Selangor, Malaysia
Phone: +60 3-7981 4366
Website: boutiquefinewine.com
Nam Lee Cheong Sdn Bhd
Address: 44-1 Jalan Sultan Ismail, Kuala Lumpur, Wilayah Persekutuan Kuala Lumpur, Malaysia
Phone: +60 3-2141 3177
Website: namleecheong.com.my/
Producers interested in Malaysia`s market can find a database with top wine importers, distributors and retailers here.