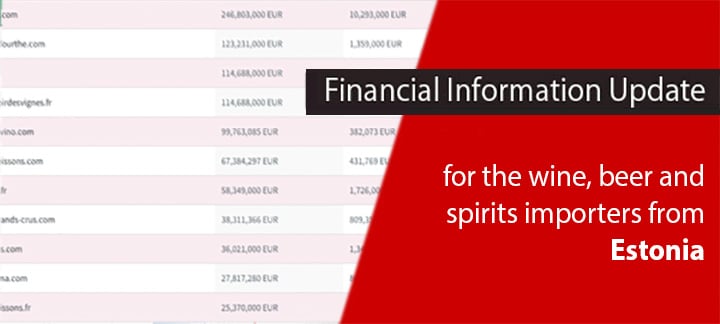 Financial Info Update and Top Wine, Beer & Spirits Importers from Estonia

1

min read
Our latest update to the BestWineImporters databases comes with the most recent financial information about the wine, beer and spirits importers, distributors and retailers from Estonia.
Sign-up to discover how our platform can help you reach 33.000 wine importers from around the world.
This week's update includes profit figures for a significant percent of companies from the Baltic beverage market, as well as turnover details for some of the importers.
The financial information is also a useful tool for determining the size of each importer.
Top Wine, Beer and Spirits Importers from Estonia, included in our databases, based on turnover:
1. Liviko As
2. Tridens As
3. Dunker Estonia Oü
4. Mediato As
5. Monotal As
6. Ltt As
7. Remedia As
8. Budampex As
9. Da Vinci Food Oü
10. Bestwine Oü
Up-to-date lists with wine, beer and spirits importers from Estonia can be found here.