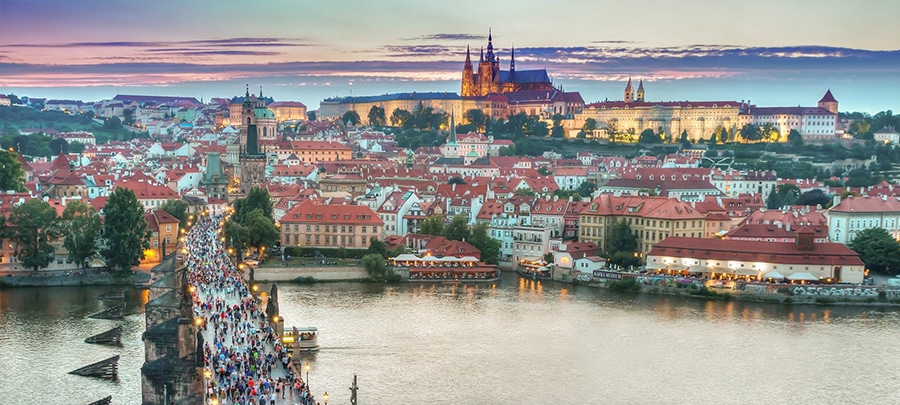 Wine Importers and Wine Import Trends in the Czech Republic 2020

2

min read
Considered one of the fastest-growing economies in Central Europe, the Czech Republic is known for its beer brewing history, which dates back to the 10th century. However winemaking also has a centuries-old tradition in the country and Czech wine lovers are expanding their tastes, fueling growing wine imports.
Sign-up to discover how our platform can help you reach 33.000 wine importers from around the world.
The Czech Republic has been making wine since the 13th century, yet most global consumers only know the country for its beer. However, both the production and the consumption of wine has been steadily increasing in the last years.
With the Velvet Revolution of 1989, Czechoslovakia freed itself of communist control and set out to adapt to the free market. Many nationalized vineyards switched to private owners and the wines produced in Southern Moravia significantly increased in quality.
Czechs are switching to quality wines
The Czech are drinking more wine and spending more money on higher quality wine. For the past 5 years, total wine sales, including imports, have risen to US$1.3 billion–an increase of 25%.
Annual per capita consumption has risen from 15.5 L in 1996 to today's 21 L. In short, wine has become fashionable, especially in urban centers and among the opinion-makers and trend-setters.
Two-thirds of the local production consists of white varieties that yield highly aromatic, fresh and fruity wines with good acidity. Imported whites are also popular and the consumption of rosé wine has risen twenty-fold over the last ten years.
Czech Wine Imports
Imports now account for over half of the market. Most are from the major EU producing nations, led by Italy.
Wines from the New World – Chile, Argentina, South Africa and Australia – generally need to be between €3.00 and €5.00 to catch the eye, while California wine is considered mainly too expensive.
About 25%  of all imports arrive from the Eastern European countries, although much of this is in bulk for local bottling or blending with the local product. However cheap, sweet Moldovan or Romanian wines also have a niche.
Organic and raw wines, very popular now in the Nordic countries are still in a very early stage in the Czech Republic, with only some fancy wine bars from Prague showing interest.
WINE IMPORTERS IN THE CZECH REPUBLIC
Bottles & Labels
Address: Bohdalecká 1460/8, Prague
Phone: 00420602643718
Website: www.bottlesandlabels.cz
Adveal
Address: Pod Vinicí 409/29, Prague
Phone: 00420313104304
Website: www.adveal.cz
Chovan
Address: Podolské Nábřeží 6/34, Prague
Phone: 00420241431424
Website: www.chovan.cz
Producers interested in the Czech Republic market can find a database with top wine importers, distributors and retailers here.