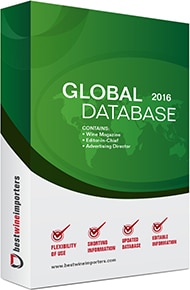 Global Wine Magazines Database
Version: 08.2018
Contains: The database contains 120 wine magazines from 41 countries worldwide. You get instant access to complete details about each magazine: name, address, phone number, fax, official email address, website, publication frequency and circulation. Create your personalized list of Top Worldwide Wine Magazines and collaborate with the best publishers out there.
New: We added the name, email address and phone number of magazines' editor in chief as well as the names, emails and phone numbers of advertising director.
$ 39.00
Simple Layout
The main database panel includes general information about the database, as well as statistics regarding its content. It allows easy access to the information comprised in the database.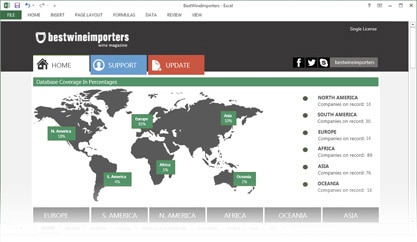 Easy to Use
The database works like any other Excel file. Once downloaded, it does not require an internet connection to work. You can copy and import its contents in your company's software.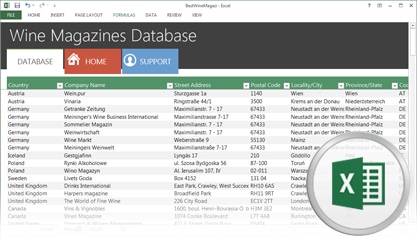 Sorting Information
You can view the information included in this database using the following variables: name of publication, street address, postal code, locality/city, province/state, country, phone, fax, e-mail, website, frequency and circulation.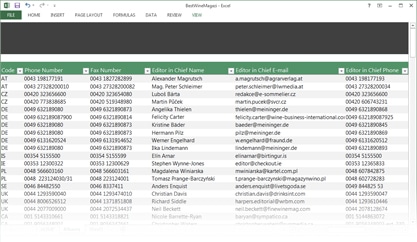 NEW FEATURE
Access to Detailed Information of Contact Persons
The new version of this database includes a general email address for all enclosed publications. Plus, for some magazines you are given the name, phone and email address of their editor in chief and advertising director.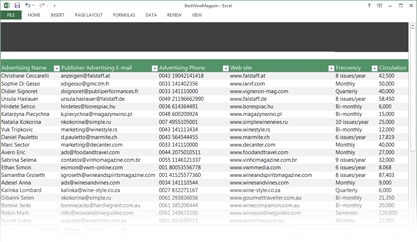 Country Coverage, Delivery Method
This database provides relevant information about wine magazines from 40 countries worldwide. When your payment has been confirmed you will receive the download instructions in your email.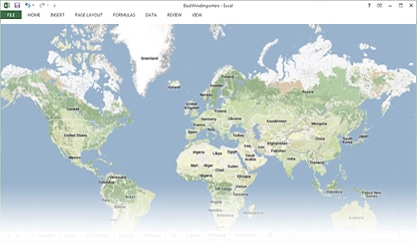 Maximum flexibility of use
The database is very easy to use as it doesn't require any installation. Once you download it you have instant access to the information (which is yours forever). Because it uses an Excel format, you don't need to have an internet connection to use the database.
Use your company's software to edit information
You can easily import the database into your company's software and edit it at will. It works beautifully on most company software, including marketing software.
Quick access
As soon as payment is confirmed you will receive an email with a password for your database. Then, in less than 12 hours from that, you will also be granted access to the database.
Update to a newer version
When you buy this database you are guaranteed to receive the most up to date version. Do you have an older version of this database and want to update it? If you think your version has expired, please place your order for an updated pack.
$ 19.00